Media Inquiries
Latest Stories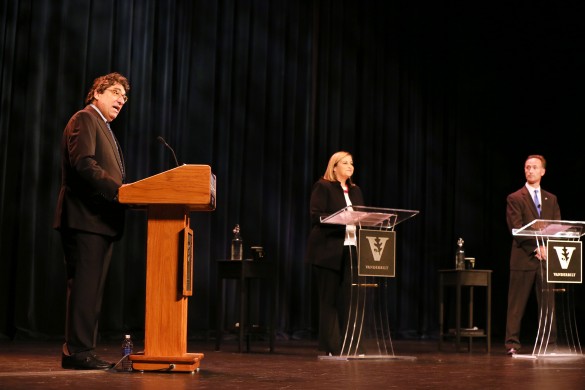 Mayoral candidates Megan Barry and David Fox presented contrasting visions for Nashville's future, as well as different descriptions of the past eight years of the city's fiscal management, during a run-off debate Aug. 24 at Vanderbilt University's Ingram Hall at the Blair School of Music.
Vanderbilt University, the League of Women Voters and NewsChannel 5 sponsored the live, hour-long event that was moderated by NewsChannel 5's Rhori Johnston.
Chancellor Nicholas S. Zeppos welcomed an audience of approximately 250 people to Ingram Hall. He noted that the university has enjoyed a wonderful and warm working relationship with Nashville Mayor Karl Dean, who is completing his second term.
"Nashville is now fortunate to have two very strong mayoral candidates running in the Sept. 10 election," Zeppos said. "[lquote]We will continue to work collaboratively to make this city an even better place for people to learn, to study, to teach, to work and to live[/lquote]."
Public education, affordable housing, transit and neighborhood preservation were among the most frequently mentioned issues during the debate. Among those in the audience asking questions was Gilman Whiting, associate professor of African American and Diaspora Studies, who queried the candidates about what they would do to help the city's at-risk minority students, many of whom are in academically poor-performing schools.
Barry said that she would continue to support universal pre-K education. "We know that if you are in pre-K and you go on to start kindergarten ready, your likelihood and your trajectory is going to be so much brighter," Barry said. "But we also have to support our teachers and our principals to give them the resources and tools they need." Barry said she wanted to know why schools like Hume Fogg and Martin Luther King Magnet are doing so well and what they are doing, so these ideas can be translated across to other schools.
Fox, a former chairman of the Metro Nashville School Board, said that this is one of the most critical times for education in Nashville with the hiring of a new school superintendent. He described the current organization of Metro Public Schools as a very top-down driven system. "On the charter side, a lot of the success we're seeing comes from the autonomy, the flexibility of the teachers and principals to make decisions. So let's make sure the organization of Metro Schools is actually assisting the process along with high expectations."
Fox strived to raise concerns on the city's spending on new projects, making the comparison to families having to learn to live within their means. Barry emphasized that she would continue to move Nashville forward, noting the current administration's success in areas that include economic development and jobs growth.
During his remarks, Zeppos said that the debate continued a proud tradition at Vanderbilt of encouraging civic participation. Early voting continues at the Howard Office Building and extends to satellite locations starting Aug. 27. Early voting ends Sept. 5, with the election on Sept. 10.