Media Inquiries
Latest Stories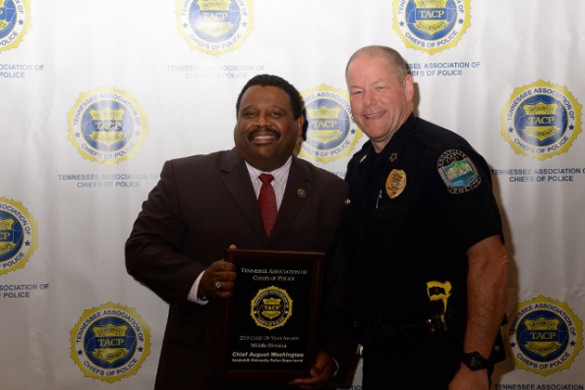 August Washington, associate vice chancellor and chief of the Vanderbilt University Police Department, has been named Middle Tennessee Chief of the Year by the Tennessee Association of Chiefs of Police. Washington received the honor during TACP's 45th Annual Conference held in Chattanooga.
The award is presented based on the following factors: the chief's ability to be progressive, innovative and professional in the management of his or her department; the chief's involvement with the community that he or she serves; and the chief's involvement with local, county, state and national organizations to promote and enhance the professional image of all police personnel.
During the presentation, TACP incoming president and Knoxville Police Chief David Rausch cited Washington's leadership and dedication to his department, community and TACP.
"Associate Vice Chancellor and Chief of Police August Washington is considered an innovator. He has worked to develop a foundation of partnership, pride and professionalism," Rausch said. "He also leads within the Tennessee Association of Chiefs of Police, where he has served as the TACP University Committee chairman and shares his talent to build consensus statewide. Chief Washington is an excellent example of a true professional."
The Tennessee Association of Chiefs of Police was founded in 1970 as a professional organization dedicated to the highest ideals of honor, leadership and integrity to maintain the respect and confidence of government officials, subordinates, the public and their fellow members of law enforcement. The association works together to shape public safety policy and provide executive-level training to law enforcement executives from agencies statewide.