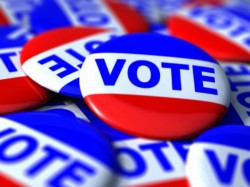 The general runoff election for Nashville and Davidson County is set for Thursday, Sept. 10. The polls will be open from 7 a.m. to 7 p.m. on election day.
Early voting runs Aug. 21 through Aug. 26 at the Howard Office Building, 700 2nd Ave. S., then from Aug. 27 through Sept. 5 at all regular early voting locations.
Early voting schedule and locations
In the Sept. 10 runoff election, Megan Barry will face David Fox in the Nashville mayor's race.
Ten at-large candidates will vie for five open seats on the Metro Council. The runoff contenders are Karen Bennett, Erin Coleman, John Cooper, Robert Duvall, Erica Gilmore, Jason Holleman, Sharon Hurt, Lonnell Matthews Jr., Bob Mendes and Jim Shulman.
In addition, the races for Metro Council districts 1, 2, 3, 5, 8, 13, 17, 20 and 23 will be determined.