An African Methodist Episcopal pastor noted for his policy expertise on community health promotion and an internationally renowned Old Testament scholar in wisdom literature are the 2015 Vanderbilt Divinity School and Graduate Department of Religion Distinguished Alumni/ae Award recipients.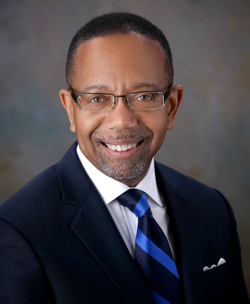 The Rev. Kenneth S. Robinson, who was Tennessee's first African American state health commissioner, and James L. Crenshaw, a retired Duke University professor who also taught at Vanderbilt, will be honored Oct. 30 at the Distinguished Alumni/ae Celebration Dinner at the Divinity School.
"This year's recipients once again underscore the commitment we have as a divinity school to prepare men and women for a wide variety of ministries in the church and in our world," said Emilie M. Townes, dean of the Divinity School and the E. Rhodes and Leona B. Carpenter Professor of Womanist Ethics and Society. "Kenneth Robinson models an active and engaged witness through his pastorate and the many voluntary and nonprofit organizations he has guided over the years. Jim Crenshaw's work in biblical studies and theology has led several generations of students to a greater appreciation of the Hebrew Bible in three institutions and countless laity in local churches."
Robinson, a Nashville native, was raised on the values of education, faith and giving back to the community. As a teenager, he helped found the National Youth Association for Retarded Children after becoming friends with a boy who had Down syndrome.
Robinson graduated cum laude from Harvard University, earning a bachelor of arts in 1975 and a doctor of medicine in 1979. He completed a residency in internal medicine at Boston's Beth Israel Hospital while becoming ordained as an itinerant elder within the AME Church. In 1982, Robinson returned to Nashville with his family to earn a master's degree in divinity while teaching at the Vanderbilt School of Medicine. In 1986 he earned his master of divinity, with his honors thesis focused on the interrelationship between religious faith and healing.
Robinson has served as pastor and chief executive of St. Andrew AME Church in Memphis, Tennessee, since 1991. He practiced and taught internal medicine at Vanderbilt for 10 years and served for 12 years as an assistant dean at the University of Tennessee College of Medicine. In 2003, he joined then-Gov. Phil Bredesen's cabinet as chief health officer for the state of Tennessee. In that role, he worked to promote, protect and improve the health of all Tennesseans. He has maintained a particularly strong interest in programs related to health promotion and disease prevention in the African American and religious communities. His honors include being named by the Robert Wood Johnson Foundation as one of the country's 10 community health leaders of the year.
Robinson has a long history of serving in many volunteer leadership roles with United Way. He founded The Works, a nonprofit organization that partners with United Way to impact lives in the Memphis area. Last February, he became president and CEO of the United Way of the Mid-South.
The Graduate Department of Religion is honoring Crenshaw for his passion for biblical studies and theology as well as his teaching.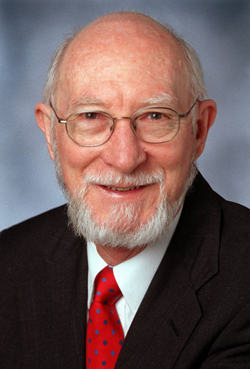 Crenshaw was born in Sunset, South Carolina, and grew up attending a Baptist church, where he enjoyed competing in Bible drill games. He majored in English at Furman University, graduating magna cum laude in 1956 with a bachelor of arts. Four years later, he received a bachelor of divinity from Southern Baptist Theological Seminary. Crenshaw pursued graduate studies at Vanderbilt, where his mentors in Bible included Leander Keck, Kendrick Grobel, J. Philip Hyatt, Walter Harrelson and Lou Silberman.
Crenshaw earned his doctorate in religion in 1964 and taught at Atlantic Christian College and Mercer University before returning to Vanderbilt in 1970. He taught on campus for 18 years before going to Duke University, where he became the Robert L. Flowers Distinguished Professor of Old Testament.
Old Testament Wisdom: An Introduction, now in its third edition, and Education in Ancient Israel: Across the Deadening Silence are among Crenshaw's prolific contributions to scholarship. In the latter book, Crenshaw looks at both the pragmatic hows and the philosophical why of education in ancient Israel and its surroundings.
Qoheleth: The Ironic Wink, which examines the mysteries of the biblical book Ecclesiastes, was published in 2013. Other recent books include The Psalms: An Introduction; Defending God: Biblical Responses to the Problem of Evil; Prophets, Sages & Poets, and Reading Job: A Literary and Theological Commentary.
Crenshaw has been awarded fellowships from the Guggenheim Foundation, National Endowment for the Humanities, Society of Religion in Higher Education and American Council of Learned Societies, among others. He was named a Pew Evangelical Scholar in 1996.
Crenshaw was honored with a "festschrift," a book of original essays compiled by students and colleagues to honor a professor's achievements, in 2000. It was titled Shall Not the Judge of All the Earth Do What Is Right?
Crenshaw was a Joseph McCarthy Visiting Professor at the Pontifical Biblical Institute in Rome for the academic year 2006-07. After becoming an emeritus professor, he returned to Nashville, where he has taught for the Osher Institute for Lifelong Learning at Vanderbilt and various congregations.
Previous Distinguished Alumni/ae Award recipients include James Lawson, Becca Stevens, Bishop Joseph Johnson Jr., Fred Craddock, Gardner Taylor, Thomas W. Ogletree and Charlotte Hotopp Zachary.