Media Inquiries
Latest Stories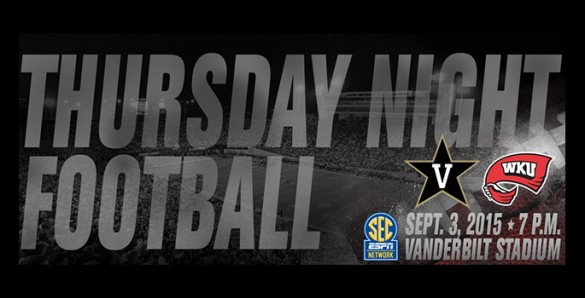 The Vanderbilt football team will open its 2015 season on Thursday, Sept. 3, with a nationally televised game on the SEC Network against Western Kentucky University. Kickoff is at 7 p.m.
The game will provide a great opportunity for the university to gain national attention and a chance to showcase Vanderbilt football and the university as a whole.
With the game being played on a workday, some adjustments in parking and traffic flow are being made to accommodate the influx of fans to campus in an attempt to limit the impact on university and medical center personnel. These are very similar to modifications that have been successfully made for mid-week games in recent years.
Among the changes:
Jess Neely Drive will be closed from Natchez Trace to 25th Avenue beginning at 7 a.m.Thursday, Sept. 3.
Natchez Trace will be closed from Children's Way to Kensington Place beginning at noon on Thursday, Sept.  3.
Medical center staff members whose vehicles normally remain in the N Lot after 4 p.m. will be asked to park in alternate locations on Sept.  3. These parkers will receive specific information about their parking alternative in the coming weeks.
Those who park in the 25th Avenue Garage may park there as usual but should be aware that between 4 and 7 p.m. the garage and the streets around it will be congested with people coming to campus for the game.
Lots 71 and 64 will close at midnight on Wednesday, Sept. 2.
Lots 29B, 64, 71, 72A, 72B, 73 and 73A will be closed on the day of the game to accommodate necessary preparations. These lots will be marked with appropriate signage three days in advance so that alternative parking arrangements can be made.
"We appreciate the patience and understanding of those that may be inconvenienced by the parking changes for this game," Assistant Vice Chancellor Brock Williams said. "We are working hard to make sure that the impact of this nationally televised game on the daily business of the university and medical center is kept to a minimum."