Media Inquiries
Latest Stories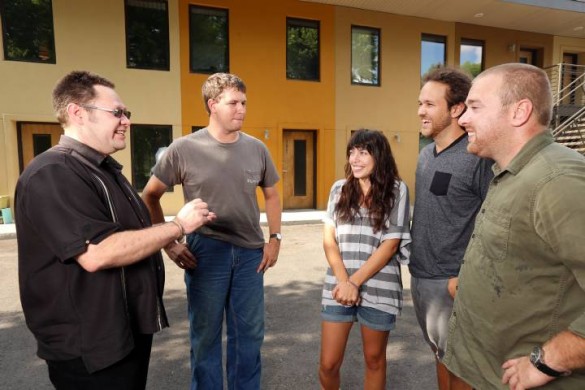 An affordable housing model that brings together Vanderbilt Divinity School students with young adults with intellectual and developmental challenges is believed to be the first of its kind in Tennessee. Located in the Chestnut Hill area, Divinity Friendship House at Vanderbilt will provide low-cost housing to eight students and three individuals who are all on the autism spectrum this fall semester.
Friendship House is a model for the kinds of partnerships the Divinity School will pursue in the future, according to Emilie M. Townes, dean of Vanderbilt Divinity School and the E. Rhodes and Leona B. Carpenter Professor of Womanist Ethics and Society. "[rquote]We want our students engaged in the city in meaningful ways that will last long beyond their time with us and will go with them throughout their vocational journeys[/rquote]," Townes said. "It helps us grow institutionally also as we commit to the model of long-term partnerships with agencies in the cities that are working to help make Nashville a better place to live and thrive."
This particular model of low-cost housing has been a dream of Jaco Hamman, who joined the Vanderbilt Divinity School faculty three years ago. "While earning a master of divinity degree in South Africa, I had the privilege of friendship with some young adults who had significant disabilities," said Hamman, associate professor of religion, psychology and culture. "They taught me about life and compassion and shaped my vocation in meaningful ways."
While at Western Theological Seminary in Michigan, Hamman helped to create a housing model that brought together 18 seminary students and six young adults with special needs. After settling into his Vanderbilt position, Hamman began meeting with a variety of people interested in housing issues.
In 2014, he co-founded the Nashville Intellectual and Developmental Disabilities (IDD) Housing Group with Carolyn Naifeh, a Vanderbilt alumna who has worked extensively in non-profit development. Naifeh, who earned a master of arts in Latin American Studies after receiving her bachelor's degree from the College of Arts and Science, serves as the organization's executive director. She remembers that about 20 people came to their first meeting at Belmont United Methodist Church, and the group has blossomed to 210 families.
"[lquote]We were concerned that there are not enough resources for families who fall in the middle-income range[/lquote]," Naifeh said. "Wealthy families often pursue their own choices while families with little means might qualify for government assistance. It's those in the middle who face the greatest housing challenges for their loved ones with special needs."
"There are more than 3.5 million Americans on the autism spectrum, yet society is poorly prepared to provide housing and job opportunities for a growing number of young adults," Hamman said.
The Nashville IDD Housing Group, including the Vanderbilt representatives and Castanea, an interdependent Christian community, formed a partnership with Urban Housing Solutions, a non-profit provider of affordable housing. Its mission is to provide new opportunities for people with unique housing needs and to help revitalize and enhance Nashville's neighborhoods.
The friendship house model is based on the principles of the L'Arche communities, founded by Jean Vanier in 1964. The organization builds inclusive communities of faith and friendship where people with and without intellectual disabilities share life together. "Students and our 'friends' eat together at least once a week, celebrate life together and are caring neighbors," Hamman said.
Steven Greiner, one of the friends who moved into the house last spring, is enthusiastic about the benefits of living with Vanderbilt Divinity students. "Don't think of your disability as your barrier, but think of it as your motivation to strive toward greater things," Greiner said. "I love getting to know the students and the community. This is a truly exciting experience."
The Vanderbilt partnership received its first building—Energy Star-certified—earlier than expected last February, when many Vanderbilt Divinity students were committed to other leases. However, Hamman said that all eight Divinity students who have signed up will be moved in by August. "Our students must pay rent, but it's about half of what the market value would be," Hamman said. "In addition, they receive the added benefit of interacting with our 'friends,' who are actually teachers for our students in such wonderful ways. [rquote]I expect the students living in Friendship House to become change agents in our communities and touch the lives of many families and individuals[/rquote]."
Urban Housing Solutions has secured another property on Clarksville Pike that will be transformed over multiple phases with the potential of a second Friendship House.
"We value our partnership with Vanderbilt Divinity School to provide quality independent housing for people with special needs," said Rusty Lawrence, executive director of Urban Housing Solutions. "Together we make a powerful team, with Urban Housing providing the 'hardware,' meaning the property, and the Divinity School 'the software, or people and activities for this important initiative. We look forward to working on more projects together."
Naifeh agreed. "The best thing about this project is that we've given people hope," she said.