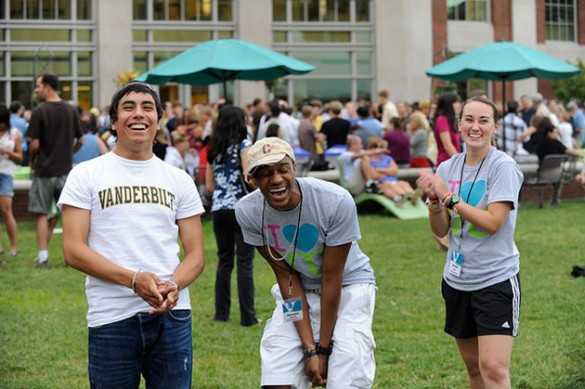 For the second straight year, Vanderbilt University students have been named the happiest college students in the nation by the Princeton Review.
Vanderbilt also ranked highly in six other categories, including "Best Quality of Life," "College City Gets High Marks" and "Their Students Love These Colleges."
For its latest annual survey, the Princeton Review asked 136,000 students at 380 top colleges and universities to rate their schools on dozens of topics and report on their campus experiences. The results are published in The Best 380 Colleges – 2016 Edition out Aug. 4, as well as on the Princeton Review website.
Vanderbilt's complete rankings in the 2016 edition are as follows:
No. 10: Best Quality of Life
No. 10: College City Gets High Marks
No. 12: Great Financial Aid
No. 12: Students Most Engaged in Community Service
No. 12: Their Students Loves These Colleges
The Princeton Review has published these rankings since 1992 in its annual Best Colleges guide. For more information, visit www.princetonreview.com/best380.
See the social media reaction to Vanderbilt's latest rankings on the Get Social page »