Tim Corbin Looks for Character in Recruits
by
Missy Pankake
Jul. 31, 2015, 2:36 PM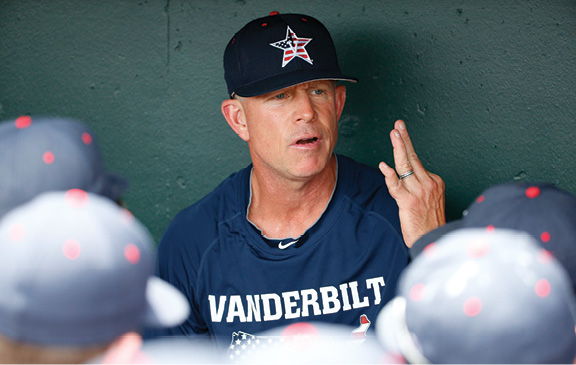 Recruiting student athletes may seem like a no-brainer: Find the most talented players on the field, then make sure they can manage a demanding academic load. But for Vanderbilt baseball's head coach, Tim Corbin—"Corbs" to his players—desirable stats and good grades aren't quite enough.
Corbin, who was named College Baseball Coach of the Year after leading the Commodores to their first College World Series title last year—and taking the team to another championship series this year—looks for more subtle signs that players will find success on and off the field. Mitch Light, BA'93, recently sat down with Corbin to discover some of the particular traits he seeks when recruiting.
A CLEAN LOCKER
Corbin says he wants athletes who are organized. When he sees players taking care of their lockers—and their space in general—it's a positive indicator. "It carries over to other areas," he says. "Taking care to follow up with tutors, following up with your coaches—that to me is a huge predictor of success, both on the field and in life. You have to be organized."
THANK-YOU NOTES
While Corbin doesn't expect to receive thank-you notes after visiting a player on a recruiting trip, he says they tend to make an impression. "It points to a care level and an awareness level that doesn't exist in every kid," he says. "It's a good thing and often an indicator of the type of kid he is."
HIGH FIVES
How does a player handle himself on the field—not just in terms of his own performance, but also in the way he interacts with teammates? "I watch how he engages with other players both verbally and physically," Corbin says. "It's imperative that they get along with their teammates. Baseball is a team sport. You have to like other people to play it. If not, go play golf. Or go fish."
THICK SKIN
In high school athletics it's often the star athletes, ironically, who haven't received much coaching. If someone is helping win games, it might not make sense to say anything critical about his performance. "But if you want to be coached at this level, you have to understand the difference between a personal attack versus constructive criticism," Corbin says. "This might be the first time players need to have that teachable spirit—the first time they get criticized."
COMEDIC TIMING
"I like a kid with personality. I like kids with a sense of humor," Corbin says. Sonny Gray had it. David Price had it. But there's a fine line between acting like a clown and simply having good comedic timing, which conveys a sense of being at ease with who one is as a person and as a player. "There are kids who can do that, and it's natural," he says. "When it's manufactured, it doesn't come off the right way."
---
Read about Commodore baseball's latest winning season.
---