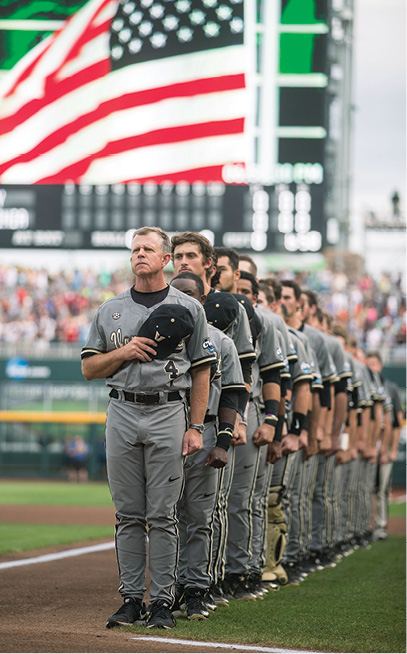 For the second year in a row, Vanderbilt's baseball team finished with a spot in the national championship. But a back-to-back win against the University of Virginia was not to be, as Tim Corbin's Commodores lost 4–2 in the decisive Game 3 of the 2015 College World Series in June.
Nevertheless, the team put in an impressive performance this year. Vanderbilt rolled through the first two rounds of the NCAA Tournament, winning three games in the Nashville Regional by a combined score of 36–5 and sweeping Illinois in the Super Regionals in Champaign, Illinois, 13–0 and 4–2. Once in Omaha, Nebraska, the site of the College World Series, the Commodores advanced to the Finals with a comeback win over Cal State Fullerton—highlighted by freshman Jeren Kendall's walk-off home run in the bottom of the ninth—and a pair of victories over Texas Christian University.
The Commodores ended the season with a 51–21 record and won 50-plus games in three straight seasons. They hold an SEC record of 63–26 for those seasons.
Vanderbilt, whose 2015 team featured one of the finest collections of top-end talent in the nation, became the first school since 2004 (Rice University) to have three players selected in the first round of the Major League Draft. Shortstop Dansby Swanson was picked No. 1 overall by the Arizona Diamondbacks, pitcher Carson Fulmer was selected No. 8 by the Chicago White Sox,
and fellow right-hander Walker Buehler was taken with the No. 24 pick by the Los Angeles Dodgers.
Vanderbilt is one of only two schools ever to have two players—Swanson and David Price, in 2007—picked No. 1 overall in the draft.
"I don't know if I'll have another group like this again," Corbin said after the CWS. "This is going to be a tough, tough group to replicate."
—Mitch Light, BA'93
---
Hear Coach Corbin and his players talk about brotherhood and their love for the Commodore faithful.

---