Obituary: William L. Garrison, BS'46, MA'47, Transportation Innovator
by Jul. 31, 2015, 2:38 PM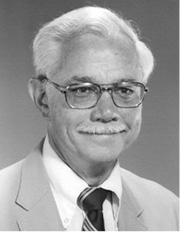 William L. Garrison was known early in his career for revitalizing the field of geography through greater scientific thinking and methods, which led to increased use of computerized statistical techniques in geographical research. He died Feb. 1, 2015, in Lafayette, California, at the age of 90. He was the son of Sidney Clarence Garrison, who served as president of George Peabody College for Teachers from 1937 to 1945.
After doing meteorological work for the U.S. Army during World War II, William Garrison earned his Ph.D. in geography from Northwestern University in 1950. He went on to teach at several universities before joining the faculty of the University of California, Berkeley, in 1973 as professor of civil engineering and director of the university's Institute of Transportation Studies. By then his interests had shifted from geography to transportation.
Under Garrison's leadership the Institute of Transportation Studies expanded its scope beyond transportation and traffic engineering, becoming a more broad-based center that also incorporated the fields of city and regional planning, economics, geography, public policy and sociology. Colleagues say he was among the few to take a macro view of transportation, trying to understand the long-term dynamics of systems. He retired from UC Berkeley in 1991.
Garrison was appointed to numerous national committees, including service as chair of the executive committee of the Transportation Research Board in 1973. He co-authored The Transportation Experience, published by Oxford University Press in 2006, which was followed by a revised second edition in 2014.
He is survived by his wife, five daughters, two sons, 16 grandchildren and one great-grandchild.