Obituary: Oscar Touster, Revolutionary Biochemist
by Jul. 31, 2015, 2:38 PM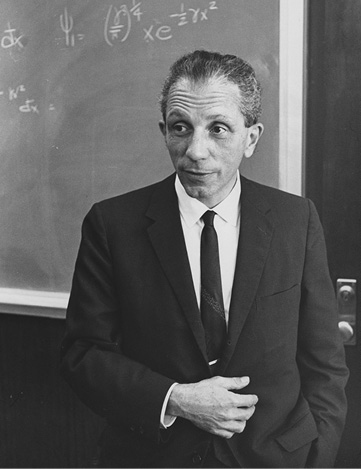 Oscar Touster, professor of molecular biology and biochemistry, emeritus, and first chair of the Department of Molecular Biology in Vanderbilt's College of Arts and Science, died Feb. 27, 2015. He was 93.
Reared in a multicultural New York City neighborhood, Touster earned bachelor's and master's degrees before his scientific career was redirected by the onset of World War II. In 1942 he trained as a lab supervisor for a TNT powder company. By 1943 he was a research chemist at Abbott Laboratories working with Herbert Carter at the University of Illinois doing secret research to isolate the drug penicillin.
After receiving his Ph.D. in 1947, Touster joined the biochemistry faculty of the Vanderbilt School of Medicine. His interest in carbohydrate metabolism led to innovative studies of pentose metabolic pathways. For this work he received the Theobald Smith Award of the American Association for the Advancement of Science in 1956. In 1957 he won Guggenheim and Howard Hughes fellowships, which enabled him to spend time at Oxford University in association with Hans Krebs' laboratory.
"Oscar was one of the individuals who transformed Vanderbilt from a small regional institution to a world-class educational and research center," says Conrad "Connie" Wagner, professor of biochemistry. "He was an outstanding scientist who worked in the processing of glycoproteins."
In 1963, Touster was given the opportunity to establish a Department of Molecular Biology in Vanderbilt's College of Arts and Science and Graduate School, and was appointed chair of the department by Chancellor Alexander Heard. "The revolution [brought by the electron microscope] challenged physicians, mathematicians, chemists and research-oriented physicians to apply new ways of studying fundamental biological mechanisms," Touster told the Vanderbilt Alumnus in 1979. "And the new methods were gathered together under the umbrella title of 'molecular biology.'"
Widely published, and remembered by colleagues as a kind, unselfish mentor who served the university with zeal, Touster won Vanderbilt's Thomas Jefferson and Harvie Branscomb awards in recognition of his dedication and service. He also served as president of Oak Ridge Associated Universities, and as chair of its board of directors.
Touster was predeceased by his wife of 65 years, Eva Touster, poet and professor of English, emerita, at Peabody College. He is survived by his daughter, Alison Touster-Reed, BA'76, MA'77, and two grandchildren.