By GayNelle Doll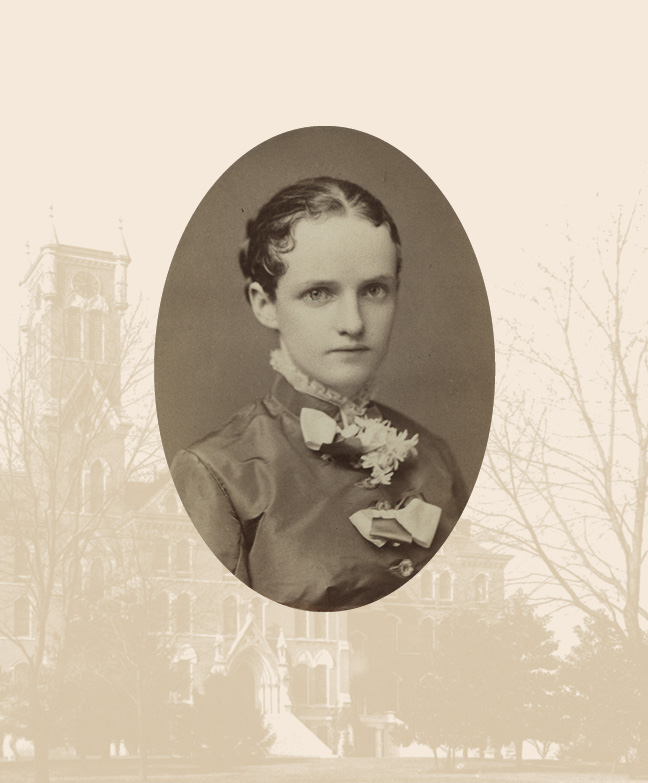 On June 20, 1877, just two years after it opened its doors to students, Vanderbilt University granted its first undergraduate degrees during a grand Commencement ceremony held in the chapel of Kirkland Hall, which was known in those early days as Main Hall.
Besides two candidates receiving the bachelor's degree from the Department of Philosophy, Science and Literature, eight candidates from the Law Department received the bachelor of law degree, seven students from the Biblical Department received diplomas for completing a two-year course of study, and 15 received "certificates of graduation" but no degree from the Department of Philosophy, Science and Literature.
One of the most accomplished of students in those years was Kate Lupton, who had met requirements for a certificate in the Department of Latin. Lupton, however, did not receive any kind of recognition that day. The Board of Trust, when notified of her eligibility, had voted to postpone action in the matter.
Founded for the education of young men, Vanderbilt from its earliest days allowed a handful of women to attend classes as "listeners." Lupton was not allowed to enroll formally, but professors permitted her to attend classes and take exams. Her father, Nathaniel T. Lupton, one of Vanderbilt's founding faculty members, was a professor of chemistry from 1874 to 1885.
Undeterred by the trustees' inaction, Kate Lupton continued to attend classes. Two years later a 20-year-old Kate presented herself as a candidate for a Vanderbilt master of arts degree. A committee charged with studying the issue of conferring degrees to women found that Lupton had "completed with distinction the entire course for graduating in the ten schools [as they were then called] of Latin, Greek, Mathematics, English and Modern Language, History and English Literature, Physics and Astronomy, Chemistry, Moral Philosophy and Natural History and Zoology, being two more than are required for young men for the degree of Master of Arts."
Still, Lupton was not allowed to take part in the 1879 Commencement exercises. She received her diploma in private, silently breaking the gender barrier as she became the first woman to graduate from Vanderbilt. Her classmates had elected her valedictorian of the class. "This honor, however, I declined on account of my irregular connection with the institution," she would later recall.
Following in her father's footsteps, she became a professor of chemistry and physics in the Virginia State Normal School. She wrote for various educational and literary journals and published an acclaimed translation from the French of Fénelon's The Education of Girls in 1891.
Back in Nashville, meanwhile, the question of allowing women to matriculate found a forum in the pages of the student-run Vanderbilt Observer. Wrote one opponent:
"In almost every line of study embraced in a university curriculum, there are some things essential to a thorough treatment of the subject, appropriate for discussion before a class of boys or young men, but hardly suitable to be lectured on or recited on when the class is composed of male and female students." Topics like zoology and chemistry, the writer opined, would subject modest women to unseemly "substances and products." And forget about discussing psychology—that "realm of purest thought"—in the company of mixed genders.
Kate Lupton, by then living in Auburn, Alabama, joined the debate, making the following argument in a reply published by the Observer in 1888:
"I believe Vanderbilt University will do well to admit women … as an institution aiming to lead in all that is broad and liberal in modern education."
"I believe Vanderbilt University will do well to admit women to her higher classes, well for our Southern women who must keep abreast with the times or sink into hopeless inferiority, for our Southern men who need companions worthy of themselves and their age, and well for herself in an institution aiming to lead in all that is broad and liberal in modern education."
Lupton herself became a worthy companion to Levi Washington Wilkinson, who taught chemistry at Tulane University. They had been married less than two years when she died in New Orleans in April 1897. Their son, Lupton Allemong Wilkinson, would go on to become a well-known magazine writer, poet and essayist.
By the time of Kate Lupton Wilkinson's death, Vanderbilt was accepting four or five women with each freshman class. Twelve years after Kate Lupton Wilkinson left the university, Dora Johnson was awarded a B.A. in 1891 without any discussion or comment by the Board of Trust. That same year Annie Paschall became the first woman to receive an entering scholarship. In 1898, Celia Rich became the first woman to earn a Founder's Medal.
By 1913 the student body included 78 women—more than 20 percent of the academic enrollment. But it was not until the 1940 building of McTyeire Hall that Vanderbilt had its first women's dormitory. In 1981, following Vanderbilt's merger with Peabody College—which attracted more female students than men—Vanderbilt's entering freshman class had more women than men for the first time in the university's history.
When Vanderbilt built Branscomb Quadrangle in 1962, it honored Kate Lupton Wilkinson's place in university history by naming Lupton Hall after her. All four of Branscomb's dormitories, in fact, are named for women. The others are Stella Scott Vaughn, Vanderbilt's first director of physical education and coach of the first women's basketball team; Anne Hillman Scales Benedict, a 1905 alumna and benefactor who advocated for better educational opportunities and housing for women; and Ada Bell Stapleton, first dean of women and a professor of literature.
Today, Vanderbilt's undergraduate student body comprises roughly equal numbers of male and female students. At this year's Commencement, women took home six of the 10 Founder's Medals. And last year Vanderbilt appointed its first woman provost, Susan Wente, whose expertise in biochemistry and cell and developmental biology surely would have unsettled early opponents of coeducation.
Responding to one of those naysayers, Kate Lupton Wilkinson argued that women's education was "as needful to the development of the lily or rose as to the growth of the oak. He need have no fear, I am sure, that the two would develop alike, even if planted in the same soil and nourished by the same atmosphere."
---
GayNelle Doll retired earlier this year as editor of Vanderbilt Magazine. She gratefully acknowledges the assistance of Vanderbilt Special Collections and University Archives in researching this article.
---