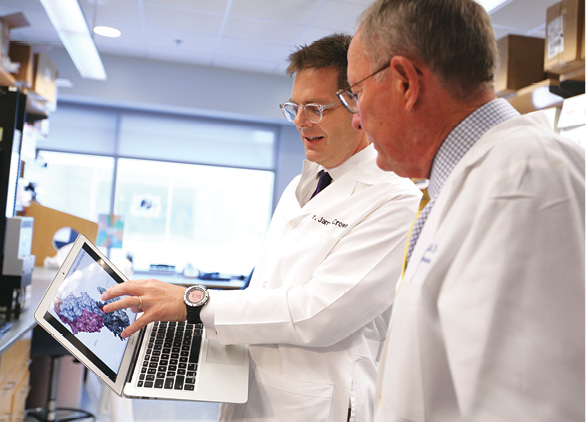 Vanderbilt researchers have received a five-year, $9 million grant from the National Institutes of Health to design more effective flu vaccines and novel antibody therapies.
Current flu vaccines—weakened or inactivated forms of the influenza virus given as injections or nasal sprays—trigger immune responses against viral proteins. Because these proteins are constantly changing, they help the virus evade immunization. That's why flu vaccines are not 100 percent protective.
Vaccines could be universally protective if they induced immunity against highly conserved, unchanging places on the surfaces of proteins found in every flu virus, says Dr. James E. Crowe Jr., who is co-principal investigator of the grant along with Jens Meiler, associate professor of chemistry and pharmacology.
Similarly, these universal antibodies that recognize every strain of the influenza virus could be developed into the first effective, injectable antibody therapy against the flu, says Crowe, the Ann Scott Carell Professor of Pediatric Infectious Diseases; professor of pathology, microbiology and immunology; and director of the Vanderbilt Vaccine Center.
Despite widespread immunization campaigns, as many as 30,000 Americans die of flu complications each year. If a new strain emerges for which no effective vaccine or treatment exists, it could kill millions worldwide.
"Flu is just a continual ticking time bomb," says Crowe.
---