Photos by Daniel Dubois
Students who are the first in their families to graduate from college defy easy categorization. Nearly 40 percent of undergraduates at four-year colleges in the U.S. are the children of parents who did not attend college, transcending clear lines of race, geography and gender. And while the median household income of first-generation students tends to lag behind their classmates at elite institutions, it's hard to lump this group into any definitive income bracket. There does appear to be one common element shared by most first-generation students, according to attitude surveys: They often are highly driven to achieve academically and in their careers. Vanderbilt Magazine spoke to several members of the Commodore community about their experiences as the first in their families to graduate from college. Here are the stories they shared.
---
Shirley M. Collado, BS'94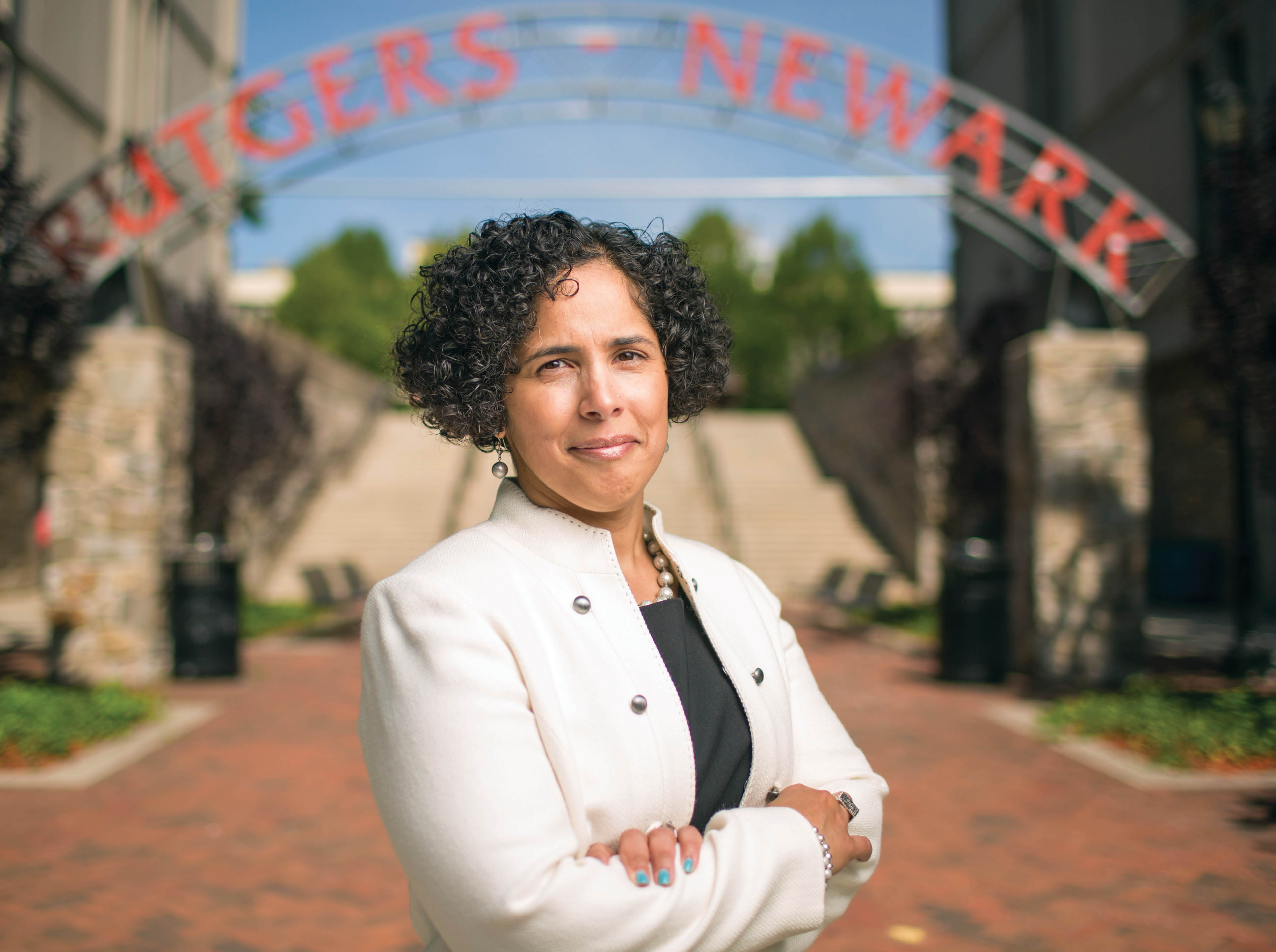 In 1989, Shirley M. Collado took the ride of a lifetime when she stepped onto a Greyhound bus in New York City. The Brooklyn-born daughter of Dominican immigrants was bound for Vanderbilt along with four fellow Posse Scholars—the first-ever cohort assembled by the college access program.
"We had no idea what was waiting for us on the other end," says Collado, Peabody College's 2015 Distinguished Alumna, echoing comments made during her Commencement speech at the school May 8. "All we knew is that we had a chance and we needed to have courage so that many more Posse Scholars could come after us."
Collado has since devoted her life to education as a clinical psychologist and national leader on issues of access, retention and college success. She has taught at several universities, led The Posse Foundation as executive vice president, and served as vice president for student affairs and dean of the college at Middlebury College for several years. Currently the executive vice chancellor and chief operating officer at Rutgers University–Newark in New Jersey, she credits Vanderbilt for putting her on that path.
"My experience at Peabody College was transformative," says Collado, who also serves on Vanderbilt's Board of Trust. "It's where I found my home and my center as I took intellectual, social and cultural risks."
---
Harry Lopez, BA'12
Harry Lopez came very close to transferring from Vanderbilt before he ever found his place here. The son of political refugees from Nicaragua, he was raised in a community in Miami that was decidedly low-income and predominantly Latino.
"Coming to Vanderbilt was a culture shock," he says.
Lopez, though, took a cue from his parents, who had to be resourceful to make ends meet, and found a way to adapt to his new surroundings. The Department of Theatre and his political science classes, particularly those with Assistant Professor of Political Science and Sociology Efrén Pérez, helped him discover his own community.
"I've changed so much as a result of being at Vanderbilt," says Lopez, who was a Cornelius Vanderbilt Scholar. "I'm so rich with experience, knowledge and relationships."
Lopez is now a manager of teacher leadership development at Teach For America in Nashville, where he still draws upon the lessons of his political science classes. "I believe that education is a civil rights issue," he says. "It's a social justice problem that can only be solved by thinking critically about identity, class, race and privilege."
---
Dr. Jennifer Rahn, MD'14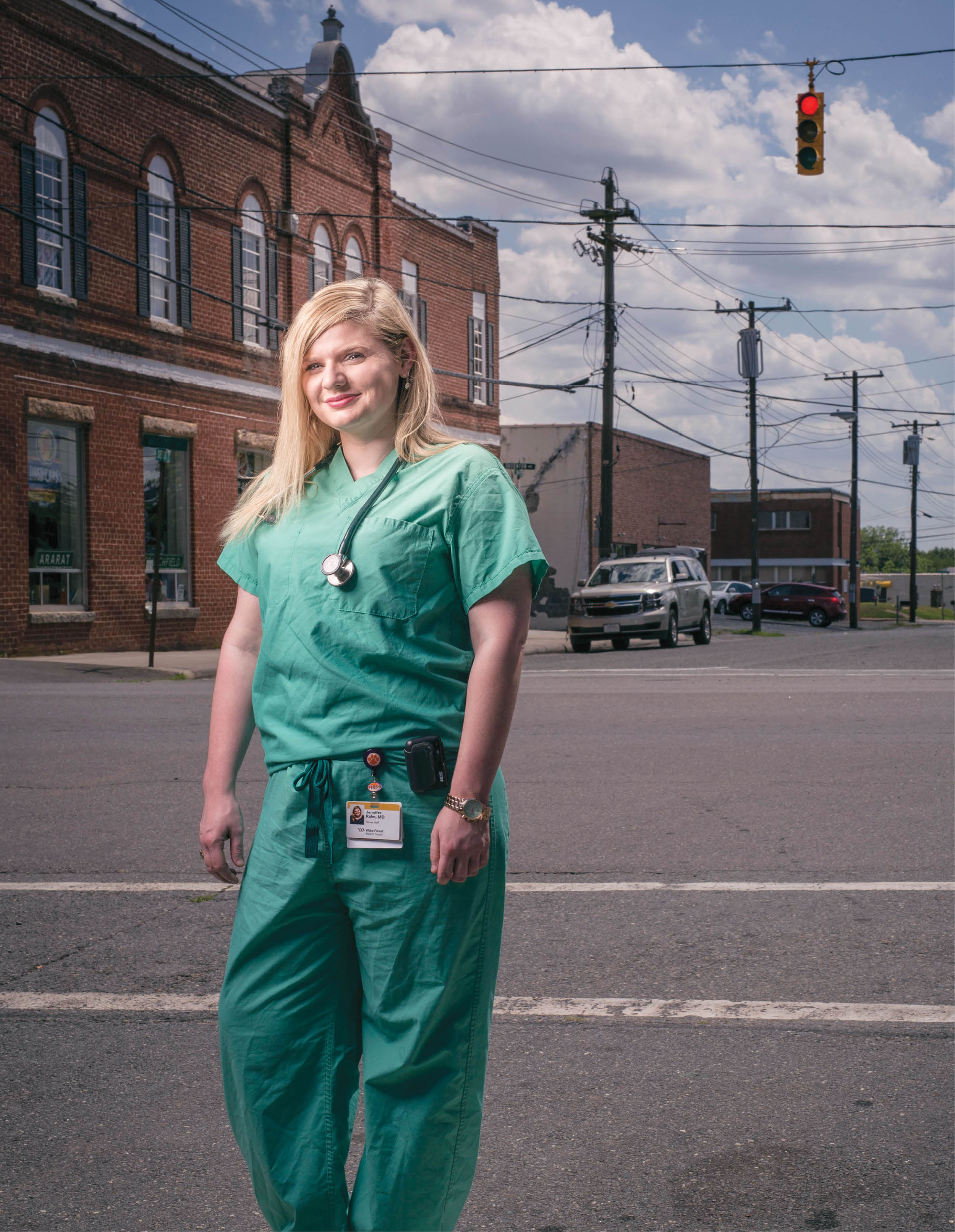 Jennifer Rahn knew as early as age 7 that she wanted to become a doctor, but the odds were stacked against her. In her hometown of Ehrhardt, South Carolina—population 576—only about one out of every 10 people goes to a four-year college, she says. Yet Rahn persevered, first attending Clemson University as an undergraduate and then Vanderbilt's School of Medicine.
"Everyone at Vanderbilt was so supportive. It really felt like I was part of a family," says Rahn, who received financial assistance from the David Hitt Williams, M.D. Memorial Scholarship, as well as the John N. Shell Endowment Fund.
Now a resident in the family medicine program at Wake Forest University in Winston-Salem, North Carolina, she hopes someday to practice medicine in a town like Ehrhardt. "Being a first-generation college student is still to this day the thing I'm most proud of," she says. "It's one of the reasons I'm going into rural medicine.
"I want to be not only a small-town physician but an advocate for education as well."
---
Reggie Ford, BA'13, MAcc'14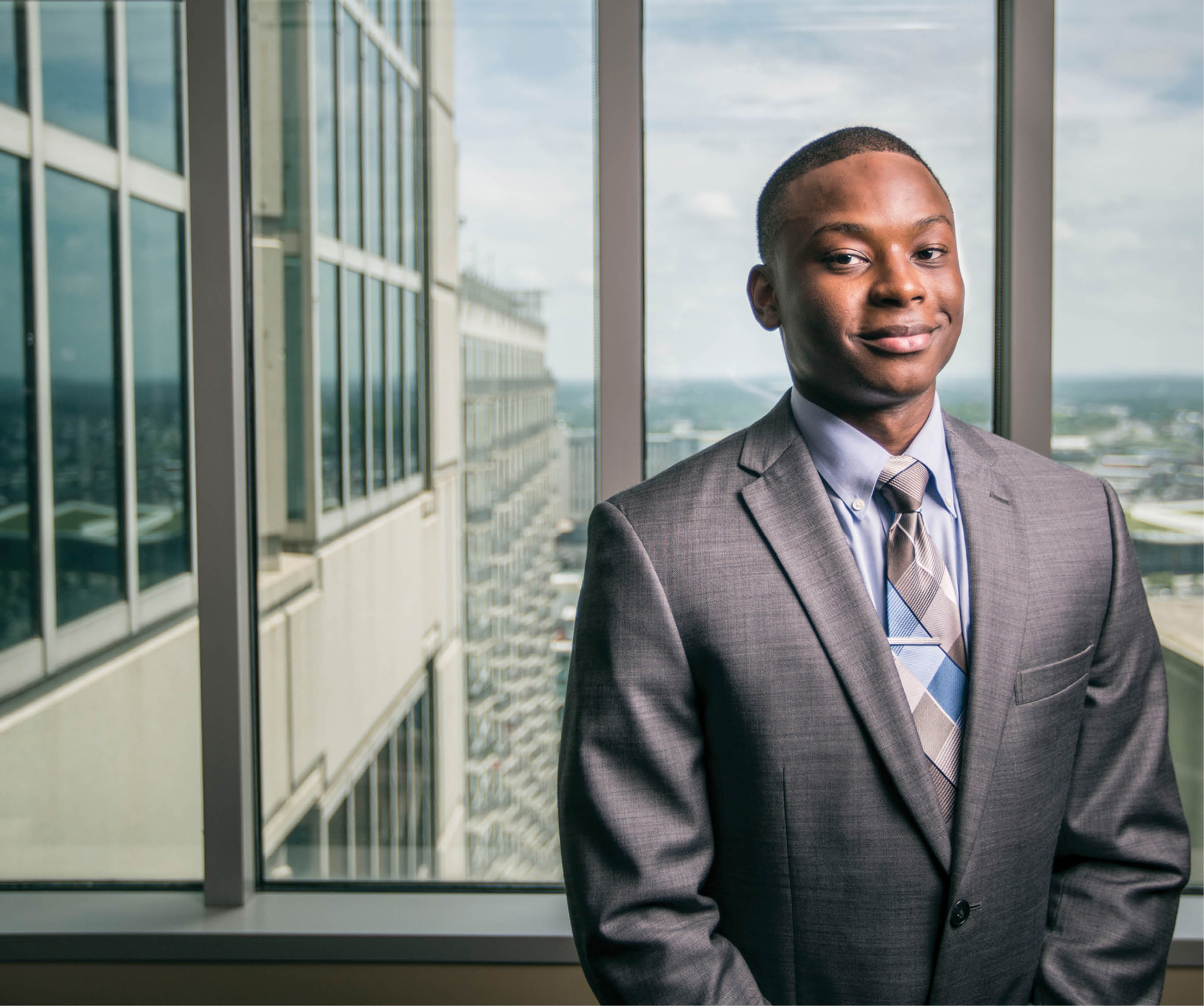 Reggie Ford easily could have been a victim of the streets, like so many others in his East Nashville neighborhood. Crime, violence and poverty were commonplace growing up, and he had only to look to his parents to see how difficult life could be: His mother gave birth to him when she was just 14, and his father was in prison for much of Ford's childhood.
"I've always had this drive inside to do better than what I saw around me," says Ford, who excelled both academically and athletically in high school.
Ford turned down scholarship offers from Ivy League schools to attend Vanderbilt and walk on to its football team. Ultimately, though, he found his calling in the pursuit of a business career, graduating with a bachelor's in economics in 2013 and a master's in accountancy the following year.
"Vanderbilt was the best five years of my life for sure," says Ford, an audit senior assistant at Deloitte in Nashville. "It gave me the opportunity to meet people I never would have met and opened doors I never could have opened on my own."
---
Kelly Holley-Bockelmann
Assistant Professor of Physics and Astronomy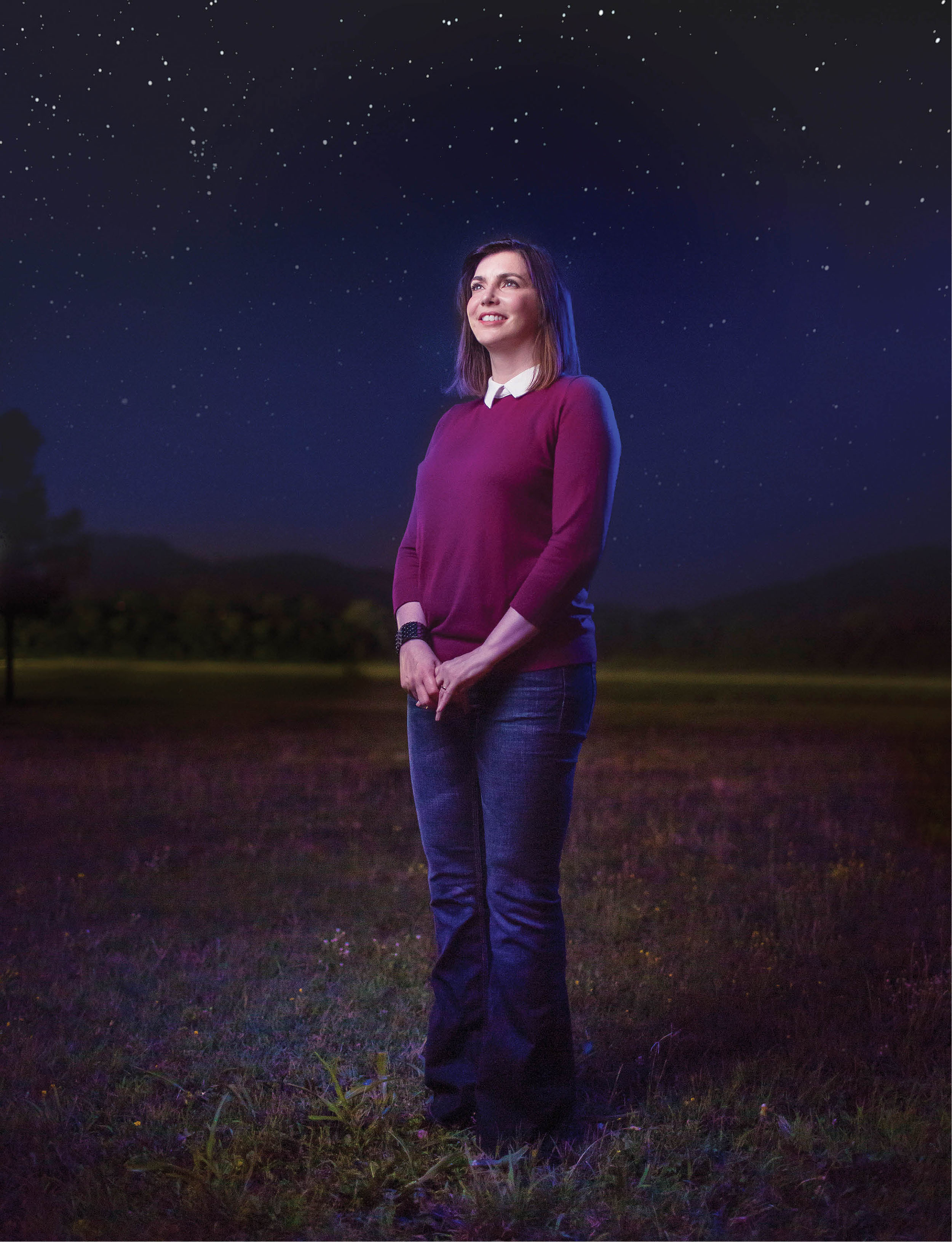 Kelly Holley-Bockelmann's path in life was written in the stars from the very beginning. As a young girl she would stare at the night sky and dream of becoming an astrophysicist—long before she even knew what the word for it was.
"I was such an oddball. Nobody else in my family had attended college, much less studied astrophysics," says the Vanderbilt associate professor of physics and astronomy, who grew up in several different states as her parents sought fresh starts and steady work. "And then when I got into academia, I still felt like I didn't fit in. Now I study black holes for a living, and am so lucky and happy to finally be here, but I do also feel like an imposter."
Holley-Bockelmann draws upon that experience in her work as both a teacher and researcher. In particular, she enjoys mentoring students in the Fisk–Vanderbilt Master's-to-Ph.D. Bridge program, many of whom are first-generation like herself.
"Scientific problems today are hard, and we need a diverse set of minds working on them," says Holley-Bockelmann, who earlier this year was named a Chancellor Faculty Fellow in recognition of her research. "A great way to get those different perspectives is to include people who come to science on a different path."
---