Owen and School of Medicine leaders co-chair international conference on analytics in health care July 29-31
by
Nancy Wise
Jul. 29, 2015, 9:21 AM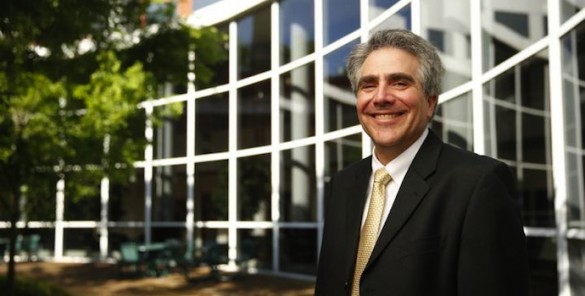 The importance and value of analytics in health care will be the topic of the Institute for Operations Research and the Management Sciences (INFORMS) Healthcare 2015 Conference July 29-31 at the Nashville Omni Hotel.
The INFORMS Healthcare 2015 Conference will include plenary presentations by leaders at the intersection of analytics and health care and feature talks that span academia and business, helping decision-makers better understand analytics as a competitive driver in health care.
"Analytics holds tremendous promise for both improving health care quality and reducing cost," said conference co-chair M. Eric Johnson, dean of the Vanderbilt Owen Graduate School of Management. "For most health care delivery organizations, the focus on delivering the highest value has never been greater."
Experts from Owen, Vanderbilt School of Medicine and Vanderbilt University Medical Center will present and host sessions. Conference attendees will have the opportunity to visit the Monroe Carell Jr. Children's Hospital at Vanderbilt and the Medical Center's Surgical Case Cart Preparation Center.
More than 500 attendees are registered for the conference. Key topics to be discussed include social media and health care, technology and weight loss, data mining and Twitter, and the business of health care.
The INFORMS conference is co-chaired by Johnson, Ralph Owen Dean and the Bruce D. Henderson Professor of Strategy at Vanderbilt's Owen School; Robert Dittus, the Albert and Bernard Werthan Professor of Medicine, senior associate dean for population health sciences at Vanderbilt University School of Medicine and associate vice chancellor for public health and health care at Vanderbilt University Medical Center; and Vikram Tiwari, assistant professor of anesthesiology and assistant professor biomedical informatics at the School of Medicine.
In addition to hosting, Johnson also will present papers on analytics and data breaches. Representatives of the Vanderbilt Center for Surgical Quality and Outcome Research, the Vanderbilt Anesthesiology and Perioperative Informatics Research Division, the Department of Biomedical Informatics in the School of Medicine, and the Department of Health Policy in the School of Medicine will present papers.
INFORMS is the leading international association for professionals in analytics and operations research. This is its third health care conference. Additional information is at http://meetings2.informs.org/wordpress/healthcare2015.