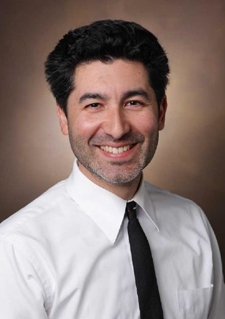 Keivan Stassun, professor of astronomy, has been named senior associate dean for graduate education and research for the College of Arts and Science, Dean Lauren Benton announced. The appointment is effective Aug. 10.
Stassun directs the Vanderbilt Initiative in Data-Intensive Astrophysics (VIDA), which promotes research and interdisciplinary collaboration at the interface of astronomy, physics, computer science, statistics and information science.
He also holds the position of adjunct professor of physics at Fisk University and has directed the Fisk-Vanderbilt Master's-to-Ph.D. Bridge Program for the past nine years. The Fisk-Vanderbilt bridge program has become the nation's top awarder of Ph.D.s in astronomy, materials science and physics to underrepresented minority students and serves as a national model for other schools, including the Massachusetts Institute of Technology, Columbia University and the University of Michigan.
"Keivan Stassun's extraordinary scholarship and vision represent the very best of Vanderbilt's commitment to advancing graduate education and engaging our students in research and discovery. His service in this role will add strength to the university's position as a leader among the world's top academic research institutions and will provide even greater mentoring opportunities for our students," Chancellor Nicholas S. Zeppos said.
"[lquote]We look forward to benefitting from Professor Stassun's leadership in guiding A&S graduate programs and helping to develop disciplinary, interdisciplinary and trans-institutional research involving A&S faculty and students," Benton added.[/lquote]
In addition to winning acclaim for his research and teaching, including election to the rank of fellow of the American Association for the Advancement of Science, Stassun recently was awarded the Diversity Visionary Award from INSIGHT Into Diversity magazine, the oldest and largest diversity-focused publication in higher education. The award honors individuals who have made significant past and present contributions to diversity in higher education.
"It is my great honor to accept Dean Benton's call to serve in this role," Stassun said. "While I confess that I was not initially eager to occupy an office in Kirkland Hall, I quickly came to see that she and I share a vision for raising the profile of research—and of our researchers—in the College, and we share a passion for elevating the excellence and visibility of our graduate programs.
"Over the next few years, I hope to help execute Dean Benton's goals of enabling more agility and local decision-making to our directors of graduate studies, further cementing our leadership position in the national conversation around excellence through diversity, and enabling our faculty to pursue more research faster and bigger and with fewer bureaucratic impediments," he said. "It's going to be great fun working with Dean Benton's team, and she assures me—through her own example—that I'll be able to continue my commitment to my own research and to my research team in Stevenson Building 6."