Media Inquiries
Latest Stories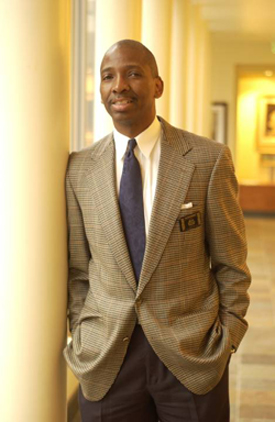 Bishop Joseph Johnson Black Cultural Center Director Frank Dobson has been named an assistant dean of students, effective Aug. 1.
Dobson, who also serves as faculty head for the Gillette House residence hall in Vanderbilt's first-year student living-learning community, The Martha Rivers Ingram Commons, is one of the most influential administrators and mentors in the undergraduate student community.
As assistant dean, he will continue as director of the black cultural center, which serves as a "home away from home" for students who use the center as study and meeting space and to learn about African and African American culture through its programs. The center was established in 1984 in honor of Bishop Joseph Johnson, the first African American to attend and graduate from Vanderbilt, and is open to the entire Vanderbilt community. It is also often used as a site for hosting scholarly and community events.
"Frank Dobson and the Bishop Joseph Johnson Black Cultural Center play an invaluable role in our undergraduate student community, and we wanted to further cement that relationship with our Office of the Dean of Students, where he will continue to work on efforts related to diversity and inclusion, particularly as they relate to helping our community develop a deeper appreciation of the contributions of Africans and African Americans," Cynthia Cyrus, vice provost for learning and residential affairs, said.
Dobson also will continue to facilitate and guide learning opportunities for students as faculty head of Gillette House. One of the hallmarks of Dobson's approach to learning has been community service, linking Vanderbilt students with schoolchildren at Progressive Baptist Church in the Edgehill community near campus for a tutoring program that coincides with the church's Wednesday night meal and worship service.
Dobson, who also teaches at Fisk University, is the author of two books, The Race is Not Given and Rendered Invisible, and a number of scholarly articles, including his recent work on the pioneering black actor Woody Strode. He also is a playwright whose work has been presented nationally.