Media Inquiries
Latest Stories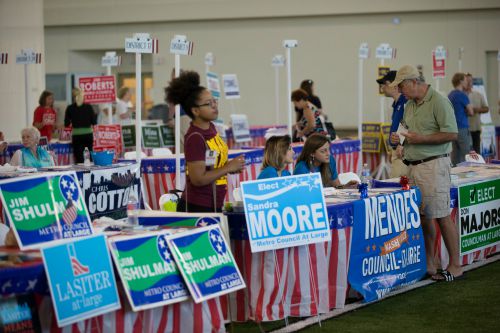 All seven individuals running for Nashville mayor—Megan Barry, Charles Robert Bone, David Fox, Bill Freeman, Howard Gentry, Jeremy Kane and Linda Eskind Rebrovick—were among the candidates greeting Vanderbilt employees at an indoor picnic lunch July 16.
For the first time, Vanderbilt held a Meet the Candidates picnic inside the multipurpose facility of the Vanderbilt Recreation and Wellness Center.
Hot dogs, apples and ice cream were enjoyed in a cordoned-off area by about a thousand Vanderbilt employees, candidates and campaign workers gathered at the tempered-air indoor practice field and track. Red, white and blue balloons and American flag bunting garland on the tables added to the festive atmosphere.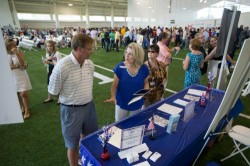 In addition to all mayoral candidates, one candidate for vice mayor, and 19 at-large candidates and 32 district candidates for the Metropolitan Nashville Council worked the crowd and offered campaign information at designated tables. Candidates also stood on a soapbox in Vanderbilt's "public square" to briefly introduce themselves to the audience. Davidson County Election Commission employees were on hand to offer voter information.
The event, sponsored by the Office of Community, Neighborhood and Government Relations, took place one day before early voting got underway for the Aug. 6 Davidson County election. Early voting will end Aug. 1. Should a run-off be required, it will take place Sept. 10.