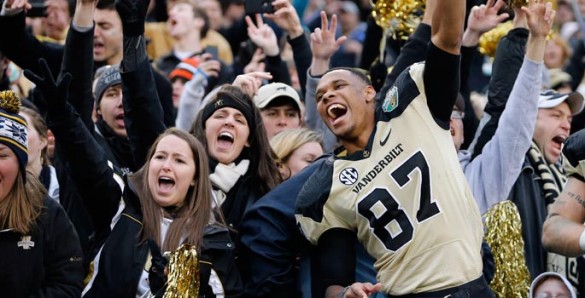 Vanderbilt Athletics Ticket Office associates will be distributing ticket information for Commodore football and men's and women's basketball in the main hospital cafeteria every other Friday for the summer months.
Beginning Friday, July 10, ticket associates will be available to answer questions and provide ticket information for Vanderbilt employees during the lunch hours from 10:30 a.m. to 2 p.m.
Employees will also have the opportunity to pick up the latest Vanderbilt schedule posters and register to win autographed merchandise.
Vanderbilt employees are eligible for a discount on season tickets to all Vanderbilt sports. Ticket prices for Commodore sports are some of the most affordable in the country. For the football season, a Family Pack of season tickets (two adult and two youth tickets to all six games) is available for only $380 – that's less than $16 per person per game.
Additional ticket information can be found at the Vanderbilt Athletics website.
Dates in main hospital cafeteria:
July 10
July 24
Aug. 7
Aug. 21
For more information, contact the Vanderbilt Ticket Office at 615-322-4653