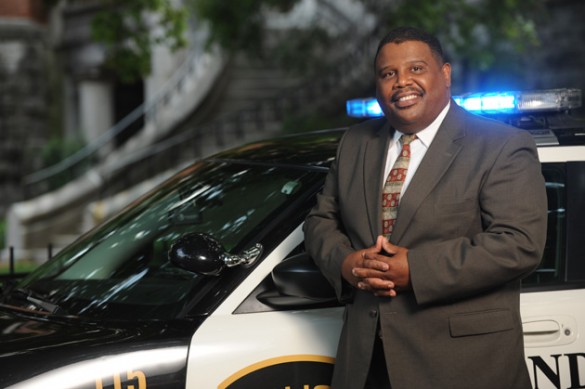 A July 14 public forum is one of the final steps in Vanderbilt University Police Department's effort to become the first university police agency in the state to be granted Gold Standard national accreditation.
An on-site assessment team from the Commission on Accreditation for Law Enforcement Agencies (CALEA) will hold the forum Tuesday, July 14, at 5 p.m. in VUPD's Support Services Annex, located at 115 28th Ave. S.
All Vanderbilt students, faculty and staff and members of the Nashville community are invited to attend and offer comments. Feedback provided at the forum will be considered as part of the commission's assessment of Vanderbilt.
"Vanderbilt University Police Department strives to be an exemplary leader in the field of law enforcement in both the state of Tennessee and nationally. [rquote]In pursuit of excellence in our service to the Vanderbilt community, it is vital that we not become complacent, but instead seek opportunities to expand our accreditation platform,"[/rquote] VUPD Chief August Washington said.
VUPD is seeking re-accreditation for the first time through the Gold Standard Assessment after first earning traditional accreditation from CALEA in 2009 and reaccreditation in 2012. CALEA introduced the Gold Standard Assessment in 2011.
The CALEA assessment team is comprised of public safety practitioners from similar, out-of-state agencies. During their time on campus, the assessors will review written materials, interview individuals, and visit offices and other locations where compliance can be witnessed and observed.
Individuals who are not able to attend the public forum but would still like to provide comments to the assessment team may do so by calling (615) 936-9038 from 9 to 11 a.m. on July 14. Comments will be taken on a non-recorded line by members of the CALEA assessment team.
Comments at the public information session as well as those by telephone are limited to 10 minutes. Feedback should relate to CALEA's general areas of focus, which include the department's ability to prevent and respond to crime, deliver services, build a rapport with the campus community, cooperate with other law enforcement agencies and continue in its efforts to improve its practices and procedures.
Those who wish to offer written comments about VUPD's ability to meet the standards for accreditation or would like more information about CALEA may send correspondence to 13575 Heathcote Blvd., Suite 320, Gainesville, VA, 20155, or call (703) 352-4225 or fax (703) 890-3126.