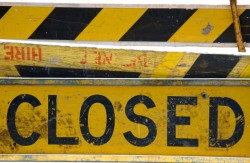 Vanderbilt will host country music artist Luke Bryan in concert on Saturday, July 11, at Vanderbilt Stadium as part of his Kick the Dust Up tour. The week prior to the event, there will be lane and road closures in and around the stadium area.
Beginning Sunday, July 5, expect lane closures along Kensington Place (behind the 2525 West End building) and along Natchez Trace behind the stadium. For the duration of the event, it is recommended that persons needing access to the 2525 Garage enter from 25th Avenue South. Police officers will be on hand to assist with traffic.
Beginning 8 a.m. Friday, July 10, until 8 p.m. Sunday, July 12, the following roads will be CLOSED to all vehicle traffic:
Natchez Trace (from the Marriott driveway to Children's Way)

Jess Neely Drive (from 25th Avenue South to Natchez Trace)
Kensington Place (from Natchez Trace to the Marriott garage)
Due to the nature of this event, the need might arise for additional lane and road closures. Police officers will be on site all week to assist motorists and pedestrians in and around Vanderbilt Stadium.
Contact: Johnny Vanderpool
johnny.vanderpool@vanderbilt.edu