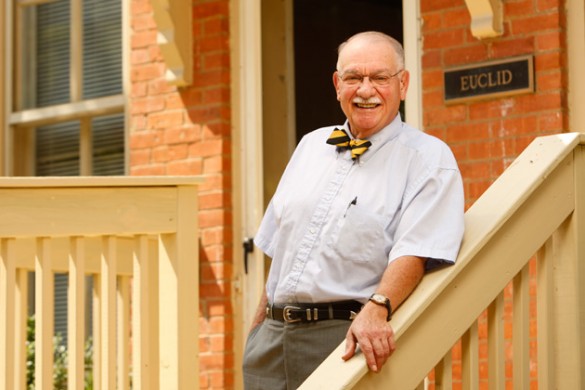 K.C. Potter, Vanderbilt dean of residential and judicial affairs, emeritus, is among those featured in A Secret only God Knows, a documentary film chronicling the lives of gay, transgender and bisexual residents who reflect on life in Middle Tennessee before 1970, and how homosexuality was viewed in the larger community.
The documentary debuted June 25 on Nashville Public Television and will air multiple times on both NPT's main and secondary channel.
The film weaves together interviews conducted as part of the Brooks Fund History Project, a diverse multimedia record of lesbian, gay, bisexual and transgender (LGBT) life in Middle Tennessee, now archived in Nashville Public Library's Special Collections Division: Oral History Collections.
The Brooks Fund at The Community Foundation of Middle Tennessee, named for the late H. Franklin Brooks, a Vanderbilt University professor and advocate for the school's gay and lesbian students, encourages the inclusion, acceptance and recognition of Middle Tennessee's lesbian and gay citizens. It does so by supporting a variety of nonprofit programs in Middle Tennessee that enhance the quality of life for the LGBT community and builds bridges between all segments of the community.
A Kentucky native, Potter first came to Vanderbilt as a law student after earning a bachelor of arts from Berea College in 1961. He was first employed by the university as an assistant resident adviser in Vanderbilt Hall while he attended law school. After completing his law degree, work as a law clerk for the Supreme Court of Tennessee, and being admitted to the Tennessee Bar, he returned to Vanderbilt in 1965 as assistant dean of men. When the offices of dean of men and dean of women were combined in 1971, Potter was named associate dean of the new Office of Student Life. He held that position until 1977, when he was named dean of residential and judicial affairs.
In that capacity, he was the chief arbiter of the university's judicial system, addressing matters of student conduct. He also oversaw housing for the university's students who resided on campus and was responsible for matters relating to Vanderbilt's sororities and fraternities, as well as for gay, lesbian and bisexual student issues.
As a residential dean, he lived on campus in Cumberland, one of the West Side Row cottages, and was on call 24 hours, seven days a week. Potter's work gave him the opportunity to know students and for students to know him, and he gained a reputation for treating students with genuine care and respect—and for sporting his trademark bowties. Over the years, he mediated many difficult situations as the campus moved through turbulent and transformative decades.
Potter retired from the university in June1998 and has since devoted himself to his farm in Hickman County. However, his influence is still felt at Vanderbilt, where in 2008 the Euclid House on West Side Row became the K.C. Potter Center, named in honor of the former dean who had been supportive of the LGBTQI community and who engendered a spirit of inclusiveness on campus. The K.C. Potter Center houses the Office of LGBTQI Life.