Media Inquiries
Latest Stories
https://youtu.be/7Fj1baJ24d8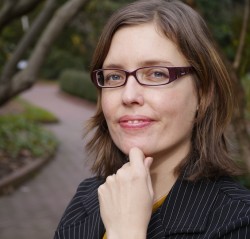 Anthropologist Sophie Bjork-James, a postdoctoral fellow at Vanderbilt University, is an expert in white supremacist social movements and has monitored the largest white nationalist website, Stormfront.org, since 2004. The media has begun to focus on Stormfront as Charleston church shooter Dylann Roof's alleged white supremacist beliefs have come to light.
Bjork-James has published her findings in "The Apartheid Conscience: What the white nationalist movement can teach us about the reproduction of white supremacy in America," "Cyber Racism: White Supremacy Online and the New Attack on Civil Rights" and the chapter titled "Cybersupremacy: The new face and form of white supremacist activism" in Tactics in Hard Times: Practices and Spaces of New Media.
"We cannot understand this shooting outside of the history of white supremacist violence in the United States," Bjork-James says. "The organized white supremacist movement is actively engaged in new media, providing online spaces for disaffected whites to hone and develop white supremacist ideas. Stormfront.org frames whites as an embattled minority and offers an alternative news venue that portrays whites as the victims of black racial violence. Though Stormfront moderators claim they do not advocate violence, this perspective can lead to violence that perpetrators see as justified."
Media may call Vanderbilt University News and Communications 24/7 at (615) 322-NEWS to arrange interviews. After-hours callers will be directed to the information officer on call.
[vustarinfo]