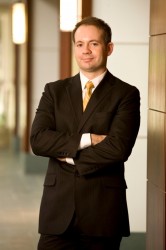 Vanderbilt University will host a live Twitter question-and-answer session about the Supreme Court and same-sex marriage from 1 to 2 p.m. Central Daylight Time Monday, June 22, featuring Brian Fitzpatrick, FedEx Research Professor of Law at Vanderbilt Law School.
The high court is close to ruling in the case of Obergefell v. Hodges whether the 14th Amendment requires states to license marriages between two people of the same sex, and whether the same amendment requires states to recognize marriages between two people of the same sex when their marriage is lawfully licensed and performed out of state.
"This case could be the Brown v. Board of Education of gay rights," Fitzpatrick says.
Fitzpatrick is an expert on constitutional law, judicial politics, judicial selection and federal courts. He was in the courtroom April 28 during the Supreme Court arguments on same-sex marriage. He participated in a moot court to help lawyer Douglas Hallward-Dreimeier prep for arguments for Obergefell v. Hodges.
Questions can be tweeted in advance or live during the event by using the hashtag #AskVU, or emailed in advance to www@vanderbilt.edu. The chat can be followed live on June 22 by following @VanderbiltU. Readers do not need to have a Twitter account to follow the chat. The chat will be archived at the Get Social website.
The same-sex marriage Q&A is the second of Vanderbilt's Twitter series #AskVU, in which Vanderbilt experts on a variety of topics will be available to answer questions from the public via Vanderbilt's Twitter account.