Media Inquiries
Latest Stories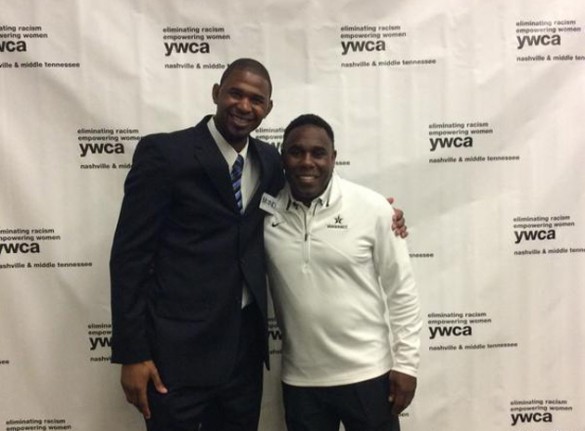 Vanderbilt head football coach Derek Mason was a featured speaker at the first MEND Forum held June 17 at Bridgestone Arena. Nashville Predators President and COO Sean Henry hosted the event.
MEND, a program of the YWCA of Nashville and Middle Tennessee, is a long-term initiative to end violence against women and girls in Nashville by empowering men in the community to be positive role models for young men and boys. MEND—composed of the words "men" and "end"—currently is focused on engaging area coaches because of their significant influence on this population.
Individual coaches often have the biggest influence on the development of young men, Mason said. He spoke of his own experience being raised by a single mother to love, trust and respect women, but also deeply feeling the void created by his absent father. This resulted in anger toward his father that was easily displaced. It took a team of surrogate father figures—including his grandfather, his best friend's father and his high school coach—to fill the void.
Mason said he espouses the simple philosophy of "do what's right" when it comes to coaching his players to be better men. This includes modeling within the athletic environment a culture of positive male-female interactions and relationships, and challenging players to be the men they say they are while holding them accountable for their actions.
Mason was invited to speak at the forum by MEND program director Shan Foster, a 2008 Vanderbilt graduate and former men's basketball standout. Foster majored in human and organizational development at the university and is the Commodores' all-time leading scorer.
Foster was selected in the second round of the 2008 NBA draft by the Dallas Mavericks and went on to create the Shan Foster Foundation to provide financial assistance, networking opportunities and other resources for single-parent households. He retired from professional basketball in 2013.
In addition to Mason, speakers at the June 17 event included Metro Nashville Police Department Capt. John Drake and Tennessee State University head men's basketball coach Dana Ford.
Area coaches representing youth leagues, public and private schools, colleges and universities were in attendance and received the MEND Toolkit for Coaches at the event, which was sponsored by JP Morgan Chase.
Two more MEND forums are scheduled for July 23 and Aug. 5.