A book exploring the effectiveness of legislators in Congress co-written by Vanderbilt's Alan Wiseman has been announced as the winner of the prestigious Gladys M. Kammerer Award for best book on U.S. national policy.
Legislative Effectiveness in the United States Congress: The Lawmakers by Wiseman and Craig Volden will receive the award from the American Political Science Association.
Wiseman is associate professor of political science and law at Vanderbilt, and Volden is professor of public policy and politics at the University of Virginia's Frank Batten School of Leadership and Public Policy.
Published by Cambridge University Press in late 2014, the book explores why some members of Congress are more effective than others at navigating the legislative process, what this means for how Congress is organized, and what policies it produces.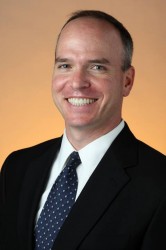 Volden and Wiseman developed the Legislative Effectiveness Score, a new metric of individual legislator effectiveness that is useful to scholars, voters and politicians alike. These scores were used to study party influence in Congress, the successes or failures of women and African Americans in Congress, policy gridlock and the specific strategies that lawmakers employ to advance their agendas.
In addition to the book, the authors launched a website, www.thelawmakers.org, to share much of the results with the general public.
The award will be formally presented at the APSA Awards Ceremony at the annual APSA meeting in San Francisco, California, on Sept. 2.
The Gladys M. Kammerer Award is given annually for the best book published during the previous calendar year in the field of U.S. national policy. The award is named after the late Gladys M. Kammerer, a pioneering woman in the field of political science. Committed to the improvement of public service and eradication of the "spoils system," Kammerer also was active in APSA throughout her career.
Founded in 1903, APSA is the leading professional organization for the study of political science and serves more than 13,000 members in 80 countries. APSA brings together political scientists from all fields of inquiry, regions and occupations within and outside academe to deepen the understanding of politics, democracy and citizenship throughout the world.