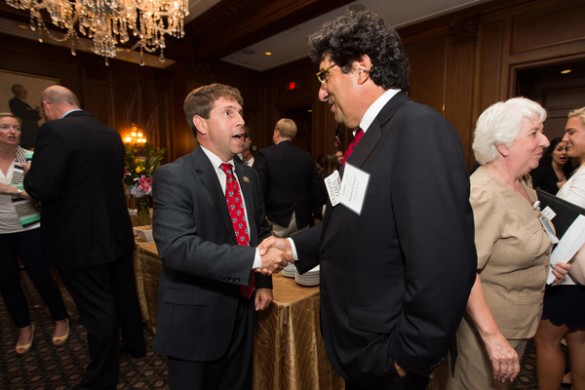 Chancellor Nicholas S. Zeppos visited with members of Congress last week to discuss the recommendations of the Task Force on Federal Regulation of Higher Education and to encourage members to reach a budget agreement that allows for additional discretionary funding for important priorities such as research and education. Zeppos also gave the keynote address at Vanderbilt's congressional reception, held in the U.S. Capitol and attended by nearly 150 people, including half a dozen members of Congress.
During his two-day visit to Washington, D.C., Zeppos met numerous members of the Tennessee congressional delegation as well as other Vanderbilt alumni serving in Congress, including Reps. Luke Messer (R-Ind.) and J. French Hill (R-Ark.). Messer, recently elected by his colleagues as chair of the House Republican Policy Committee, is a Vanderbilt Law School alumnus, while Hill, serving his first term in the U.S. House of Representatives, received his B.A. in economics from the university.
"[rquote]My message on Capitol Hill was clear — our country needs to continue to robustly invest in basic research, and we need to streamline the regulatory environment in which we operate,"[/rquote] Zeppos said. "Congress and the administration need to provide sustained, steady funding for scientific research across all disciplines. Stable and sustained funding is essential to our efforts to address many of the fundamental issues our society faces, such as energy, national security and the continuing search for new treatments and cures for disease."
Zeppos also spoke about the recommendations included in the final report of the task force that he co-chaired on ways to improve the higher education regulatory environment. He emphasized preserving important, effective regulations while identifying smarter, more efficient regulations overall. "Federal regulations serve an important purpose of protecting students and families and providing transparency and accountability in how federal dollars are spent. The recommendations we are advocating are largely common sense solutions to the jungle of red tape our institutions face," Zeppos said.
The congressional reception featured posters highlighting the university and Medical Center's economic impact on the state of Tennessee as well as the cutting-edge research being conducted by Vanderbilt faculty. Among the research highlighted was the partnership among Doug Adams, Daniel F. Flowers Professor and chair of the Department of Civil and Environmental Engineering, and his LaSIR Laboratory; Oak Ridge National Laboratory; and the University of Tennessee in the recently announced $259 million Institute for Advanced Composites Manufacturing Innovation. The work of Dr. James E. Crowe, director of the Vanderbilt Vaccine Center and Anne Scott Carell Professor, to develop new human antibody therapies for people exposed to the deadly Ebola and Marburg viruses also was featured.
The reception and accompanying meetings were orchestrated by Vanderbilt's Office of Federal Relations.