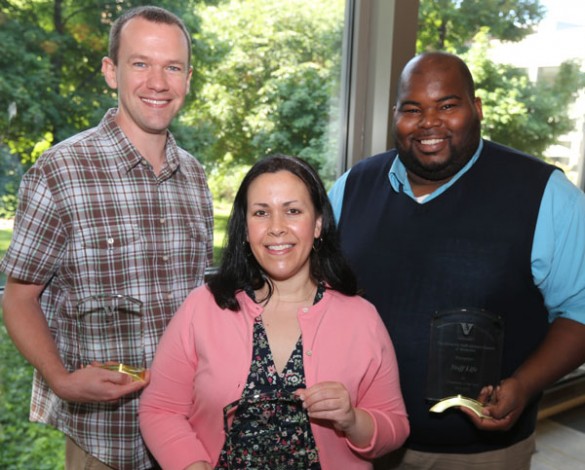 Vanderbilt's University Staff Advisory Council wrapped up its year June 9 by recognizing council members for their service during 2014-15.
USAC is an advisory group to the administration and University Central staff on issues, policies and practices that affect the institution and those served by the council. More than 90 elected individuals, who in turn represent more than 3,000 full- and part-time exempt and non-exempt Vanderbilt University staff members, comprise the council.
Jeff Loudon, a senior technical support specialist for VUIT, was recognized as Committee Member of the Year for his service on the council's Staff Life Committee. In addition, the Staff Life Committee was recognized as Committee of the Year. Staff Life is co-chaired by Al Brady, an admissions coordinator for Peabody College's Special Education program, and Andy Richter, an information systems manager for VUIT.
Kara Furlong, an editor in University News and Communications, was honored with the 2015 Karen Dolan Spirit Award. The award recognizes a staff representative for stewardship, devotion and service to the council. It is given to an employee who embodies the spirit of the late Karen Dolan, who had a strong passion for helping the Vanderbilt community during her time on campus.
Dolan worked at Vanderbilt for nearly 26 years. She was the Graduate School registrar before being diagnosed with ALS (amyotrophic lateral sclerosis). She died in May 2006, and the award was created in her memory in 2008.
Outgoing President Michelle Kovash, an adviser in International Student and Scholar Services; Vice President/President-elect Rachel Harrell, executive assistant for the Department of Chemistry; outgoing Secretary Ally Pulcini, assistant director of strategic initiatives for Development and Alumni Relations; and Treasurer Eric Jones, ticket manager in the Department of Athletics, were recognized for their leadership and service throughout the year.
The staff council's new year will begin in July. For 2015-16, Harrell will serve as president; JJ Street, an administrative assistant in Peabody College's Department of Teaching and Learning, will serve as vice president/president-elect; Lori Murphy, program coordinator for Student Organizations and Anchor Link, will serve as secretary; and Jones again will serve as treasurer.
For more information, visit the USAC website.