Vanderbilt University announced today that it is a Grand Challenges Explorations winner, an initiative funded by the Bill & Melinda Gates Foundation. Laurence J. Zwiebel, Cornelius Vanderbilt Professor of Molecular Biology and professor of biological sciences and pharmacology, will pursue an innovative global health and development research project, titled "New Approaches for Addressing Outdoor/Residual Malaria Transmission."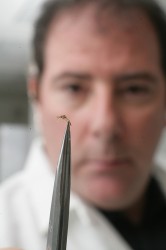 Grand Challenges Explorations (GCE) funds individuals worldwide to explore ideas that can break the mold in how we solve persistent global health and development challenges. Zwiebel's project is one of more than 50 Grand Challenges Explorations Round 14 grants announced today by the Bill & Melinda Gates Foundation.
To receive funding, Zwiebel and other Grand Challenges Explorations winners were asked to put forth what the Gates Foundation terms "one bold idea" in a simple two-page application to address one of six critical global heath and development topic areas that, in this case, included development of new approaches for addressing outdoor/residual malaria transmission. The foundation will be accepting applications for the next GCE round in the fall of 2015.
Zwiebel's bold idea is to develop a wearable insect-repellant device that creates a personal "no fly zone" that protects people when they are outside against mosquitoes, tsetse flies and other biting insects that spread deadly and debilitating diseases. "In the past, research has focused on methods, like bednets, to reduce the bites people receive while sleeping," said Zwiebel. "However, the realization is growing that a lot of people get infected when bitten outdoors."
The concept of a wrist- or ankle-band that would emit a colorless, odorless protective shield is the outgrowth of previous research into the mosquito's sense of smell performed by Zwiebel and an international team of collaborators with the support of the foundation's original Grand Challenges in Global Health initiative. That 10-year project, which was recently completed, successfully identified chemical blends that are more attractive to mosquitoes than humans as well as several naturally occurring chemicals that repel them. What came as a total surprise, however, was the discovery of a new class of super-repellents (VUAA) that targets a unique component of insect olfactory systems and which researchers estimate as potentially thousands of times more powerful than DEET and other traditional repellents. Instead of blocking the mosquito's sense of smell, VUAA compounds overstimulate it. "[lquote]It's like being closed in an elevator with someone wearing way too much perfume.[/lquote] If it overwhelms your sense of smell, the net result is repellence. We call this 'excito-repellency,'" said Zwiebel. In addition to its potency, VUAA has another critical characteristic: It works not just on mosquitoes, but on insects of all kinds.
There is a major problem with VUAA, however, that makes it difficult to use as a repellent. It has an inherently low volatility which until recently has made it almost impossible to atomize into a spray form. That problem has recently been solved by Zwiebel's team at Vanderbilt and the solution led to the wristband idea which, if successful, will produce a steady stream of the excito-repellent that surrounds and protect the person wearing it.
"It's a crazy idea," said Zwiebel. "I'm not certain it will work. But, if it does, it could be a game-changer so I'm pleased that the Gates Foundation decided to give us the funding to explore the concept and determine if it is feasible."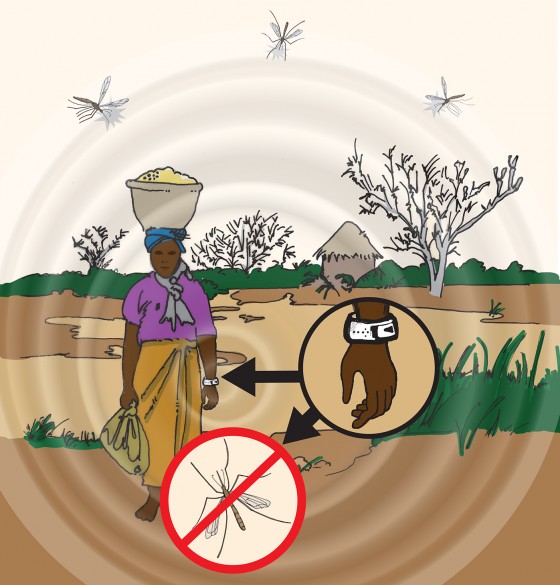 About Grand Challenges Explorations
Grand Challenges Explorations is a $100 million initiative funded by the Bill & Melinda Gates Foundation. Launched in 2008, over 1100 projects in more than 60 countries have received Grand Challenges Explorations grants. The grant program is open to anyone from any discipline and from any organization. The initiative uses an agile, accelerated grant-making process with short two-page online applications and no preliminary data required. Initial grants of $100,000 are awarded two times a year. Successful projects have the opportunity to receive a follow-on grant of up to $1 million.