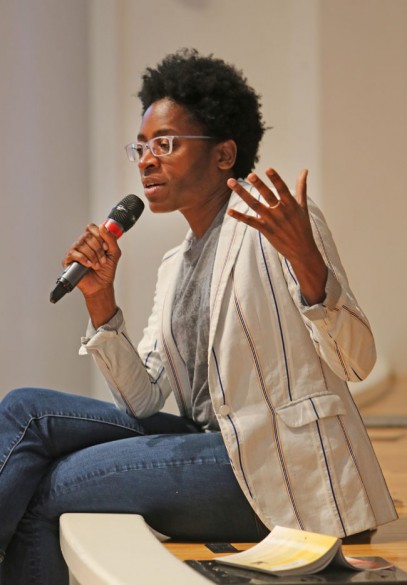 "I write because I have all these questions, and when you write, you figure things out," said award-winning author Jacqueline Woodson (Miracle's Boys, Brown Girl Dreaming), addressing a gathering of students from Creswell Middle Prep School of the Arts.
The Metro Nashville Public Schools fifth- through eighth-graders were assembled at the Wyatt Center Rotunda on the campus of Vanderbilt Peabody College of education and human development May 14 to hear Woodson speak about her writing and her life.
The students are participants of one of two Vanderbilt reading programs funded by best-selling author James Patterson.
They are Reading Academy at Vanderbilt (RAV), which partners with Creswell to cultivate a love of reading and connects students with Vanderbilt faculty through Programs for Talented Youth; and Patterson RAPS (Read and Play Saturdays), which provides free support and reading materials to Nashville middle school students.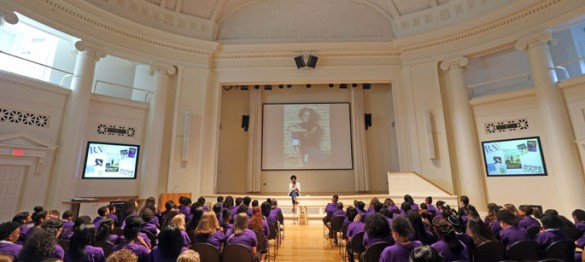 A year ago, Patterson addressed RAV and RAPS participants at the Wyatt Center, sharing with them how his love of reading and writing helped him find his calling and build a career as a nationally renowned author.
This year, it was Woodson's turn to inspire. The Brooklyn-based author has a slew of top national book awards under her belt but still finds her status as a famous author strange.
"I never expected to be famous—it's all still surreal," Woodson said. "The other day I saw a photo of President Obama buying my book. How did this happen? It's deeply surprising."
Woodson, the daughter of strict religious parents, bored easily as a child and found that her mind wandered during long church services. "I have a very short attention span, so I made up stories to keep myself occupied," she said.
A born storyteller, Woodson admits she often told her friends elaborate tales—lies she delighted in making up—just to see the looks on their faces. "Later I figured out I could turn those lies into fiction, and that's all I wanted to do," she said. "A lie on paper is a whole different thing."
As a youth, Woodson harbored a deep-seated desire to be recognized for her writing. In fifth grade she got that wish, when a poem she wrote about Martin Luther King Jr. earned her local acclaim—and a Scrabble game for her prize. The poem was so good, in fact, school administrators were at first dubious it was her own work. But she prevailed and the stage was set for a lifetime of writing. Success did not come immediately.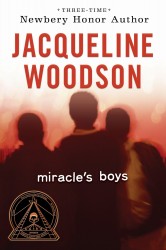 Woodson attended Harvard University and then Adelphi University, where she earned a B.A. in English. Her breakout novel was Miracle's Boys, which garnered the Coretta Scott King Award in 2001. It also caught the eye of film director Spike Lee, who made the book into a mini-series.
"When my first book came out, I thought everything would be different, but not much changed," Woodson told the students. In time, Woodson's Brown Girl Dreaming was named a Newbery Honor Book and won the National Book Award. She wrote the book after her mother's unexpected death.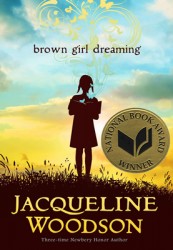 "I had so many questions," Woodson said. "I went on a journey back to the places she'd lived so I could get to know the woman my mother was before I came along."
Woodson's books are full of authentically drawn characters, who are strong African American protagonists. She explained that books need windows to the outside world and mirrors to reflect the reader.
"I live in Brooklyn, so I wanted my stories to take place in Brooklyn," she explained. "I see brown faces and black faces and I wanted to see those characters in my books reflecting the diverse influences that are lacking in children's books."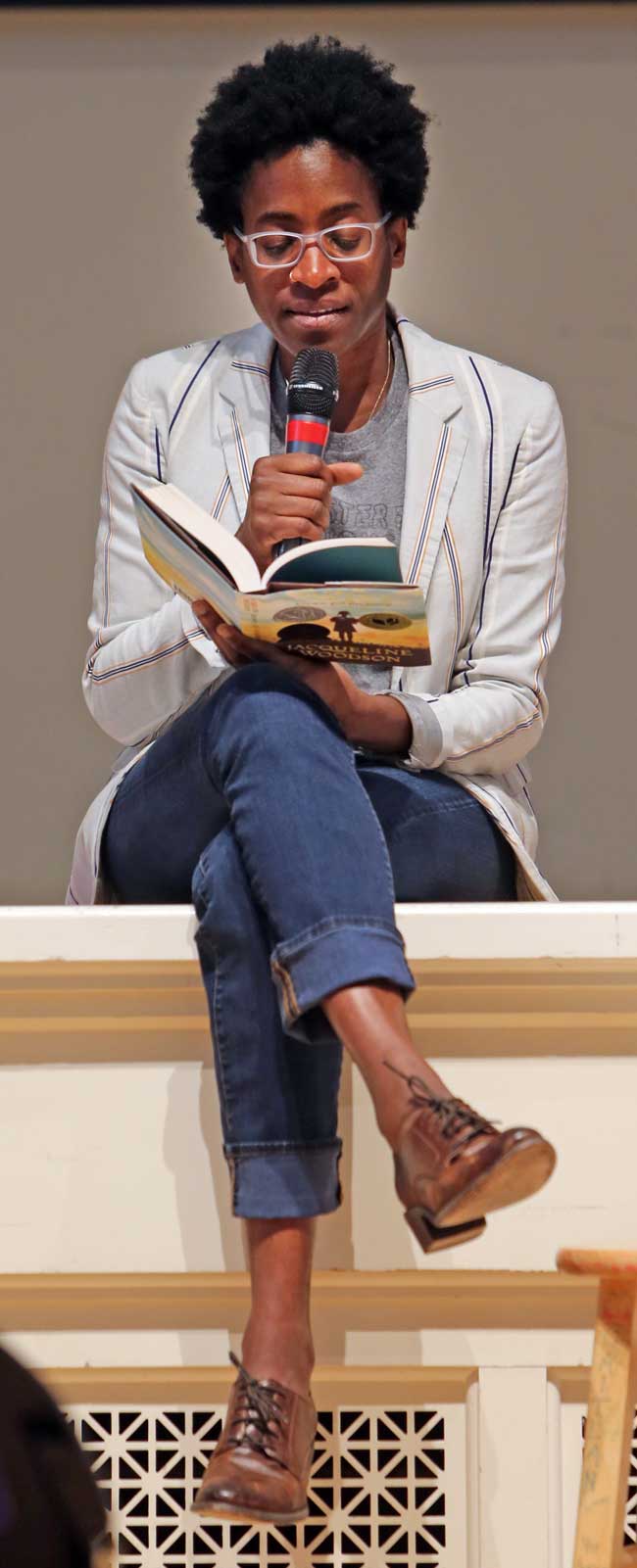 Tough issues like death of a parent, police brutality and racism are woven into her stories because they are part of her own experiences and those around her.
"I have a character who ends up being fatally shot by a police officer, because that's real and it still happens today," she said.
Now a highly decorated author, Woodson is invited to dine with presidents and has traveled the country and the world to talk about her books. But fame hasn't changed everything, she said.
"In my own neighborhood, where I live, a white woman will cross the street when she sees me coming, thinking I'm going to steal her bag," she said. "I don't even tell her, 'I could buy you 20 of those bags!'"
She added with a smile, "America has a way of keeping you humble."
With more demands on her time, plus a partner and two children at home, she is faced with many distractions and the busyness of life. But writer's block, she says, is not an option.
"I don't believe in writer's block; it's just fear that holds us back," she said. "I just follow the 'butt-in-chair' rule: Just put your butt in a chair and write. I don't have an outline, I never know where the story is going. I just write and let the characters go where they want and need to go. Writing is a muscle. You have to use it every day."
Creswell students asked Woodson questions about her writing, including what drew her to a career in writing.
"In life you have to do something you love," Woodson explained. "I write because I love it the way some people love playing ball. I want to do it for the rest of my life."
More about James Patterson's reading programs at Vanderbilt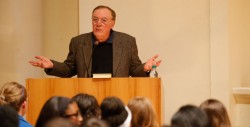 Best-selling author James Patterson earned a master's degree from Vanderbilt in 1970. In addition to the youth reading programs he established at Vanderbilt, he funded in 2009 the Patterson Scholars Program, which supports 10 Vanderbilt students each year.
Known for his gritty crime novels, he has become an acclaimed young adult author as well with his series Middle School: Get Me Out of Here. He is a generous supporter of reading programs around the country.