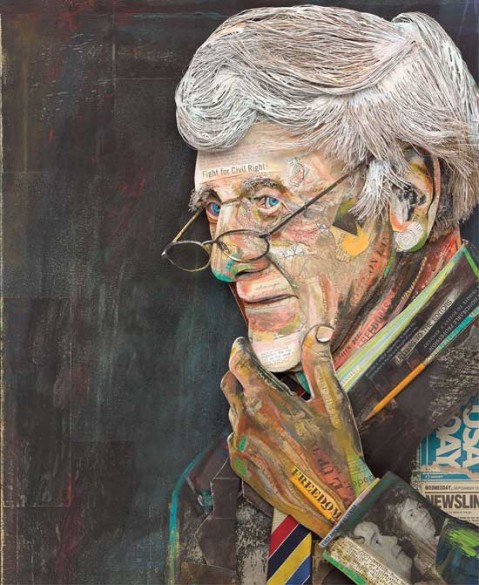 The Tennessee College Public Relations Association honored Vanderbilt University with 13 communication awards, including "Best of Show" for a Vanderbilt Magazine illustration, during the organization's spring conference.
An original illustration of John Seigenthaler published in the magazine's summer 2014 issue was awarded "Best of Show" from among 210 entries. The illustration, created by Nashville artist Wayne Brezinka, also received a Gold Award in the Illustration category.
Vanderbilt's communication initiatives received eight other Gold (first-place) awards:
College/Alumni Magazine, Printed:
Vanderbilt Magazine's summer 2014 and winter 2015 issues
Newsletter, Printed:
MyVU's fall 2013 and spring 2014 issues
Brochure/Flier:
School of Engineering, Solutions 2014
College Promotional Video:
Radio/TV Show or Newscast:
VUCast, "3-D Printer Helps Fight Malaria in Africa"
University-Related Web Page or Site:
I'm in…and here's why that's awesome
Crisis Communication Campaign:
Frozen: Communications and the ice storm of 2015
Social Media:
Two Vanderbilt entries received Silver awards:
News Writing:
School of Engineering, "New device allows brain surgery through cheek, helping people with epilepsy"
Radio/TV Show or Newscast:
That's Vanderbilt, "Smith Hall honors legacy of influential Nashville preacher"
One Vanderbilt entry was awarded the Bronze Award:
Special Publication:
School of Engineering, "Augmented Reality Goundbreaking"
Entries were submitted by universities and colleges across the state for the annual competition, which was judged by advertising, marketing and public relations professionals not affiliated with any particular school. This year's conference, "Meeting in the Mountains," took place May 27-29 in Gatlinburg, Tennessee.