Media Inquiries
Latest Stories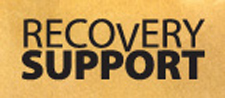 Vanderbilt Recovery Support will hold meetings each Tuesday from noon to 1 p.m. in the Medical Arts Building, Room 029. Meetings are open to staff, faculty, fellows, residents and graduate/professional students.
The goal of recovery meetings is to give individuals a safe space at Vanderbilt where they can work on their recovery with the support and fellowship of others.
For more information, visit the Vanderbilt Recovery Support website, or contact Katherine Drotos Cuthbert at (615) 343-4740 or katherine.s.drotos@vanderbilt.edu.