'The Fantastic World of the American Circus' continues through Sept. 4
May. 28, 2015, 4:43 PM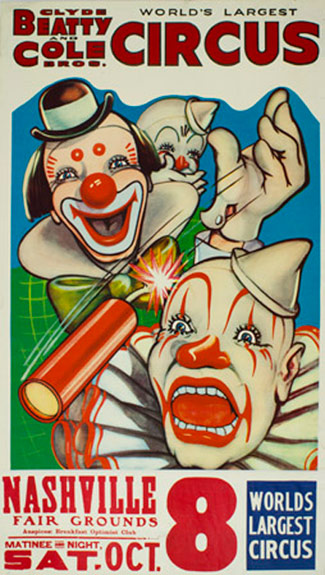 Experience the excitement of the circus this summer with "Thrills and Chills! The Fantastic World of the American Circus." The exhibition will be on display from June 11 to Sept. 4 at the Vanderbilt University Fine Arts Gallery.
"Thrills and Chills" is free and open to the public, and summer gallery hours are Tuesday through Friday, noon-4 p.m.; Saturday, 1-5 p.m.; and closed on Sunday and Monday. Beginning Wednesday, Aug. 26, the gallery will assume academic year hours: Monday through Friday, 11 a.m.-4 p.m.; and Saturday and Sunday, 1-5 p.m. The gallery will be closed July 4 in observance of Independence Day.
The Vanderbilt Fine Arts Gallery is located in Cohen Memorial Hall, 1220 21st Ave. S., on the western edge of the Peabody College campus.
The traveling circus reached its peak of popularity in the first half of the 20th century, and while a few remain, it has largely disappeared from the experience of the average American. For more than a half-century, the circus was one of the primary ways for Americans to participate in a growing leisure culture. The circus came to them, the biggest ones traveling by rail to towns and cities across the country, and on "Circus Day," entire cities would shut down, freeing up citizens to fill the 10,000 seats under the big top. The circus was an imaginative experience, with great feats of man and beast and sideshows that expanded one's notions of the limits of science.
Posters that advertised circus acts and banners teasing the wonders of sideshows were as colorful as the spectacles they promised and are the focus of "Thrills and Chills." The exhibition includes vintage posters from the Ringling Brothers and Barnum & Bailey Circus and the Beatty-Cole Circus that are in the Vanderbilt Fine Arts Gallery collection and have never before been exhibited. In addition, vintage sideshow banners from a private collection, contemporary banners by artist Glen C. Davies, historical photographs and a fun house mirror from the collection of the Tennessee State Museum will be displayed.
"Thrills and Chills! The Fantastic World of the American Circus" is organized by the Vanderbilt University Fine Arts Gallery, with support from the Ewers Gift for Fine Art, and is curated by Joseph S. Mella, director, and Margaret F. M. Walker, art curator assistant.
Contact: Joseph Mella, (615) 343-1704
joseph.mella@vanderbilt.edu