Running low on your Vanderbilt business cards? Need new cards due to a change of title or address?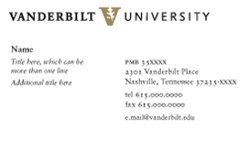 From June 1 to June 12, Vanderbilt Printing Services is offering 25 percent off all business card orders charged to an internal cost center.
Visit Vanderbilt Printing Services online and select "Order Business Cards" from the right-column menu. While you're browsing the website, you'll see that we offer a full line of customizable stationery, including letterhead, notecards and envelopes.
Need a custom project? Call our customer service team at 936-4544 for a document consultation.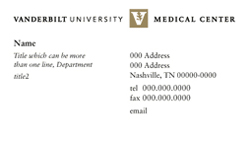 Vanderbilt Printing Services is the internal print, copy and mailing service for the Vanderbilt University and Medical Center community. Since 1960, our team of printing experts has provided excellent service, superior quality and substantial cost savings over commercial alternatives.
"Printing Services is proud to serve Vanderbilt's printed communications needs, and we are constantly looking for ways to add value to the institution," said Sean Carroll, interim director of Printing Services. "This is a great way to give back and continue to drive awareness of our capabilities. From one copy to 1 million, Printing Services will do whatever it takes to support your department's communication needs."
For more information, visit the Vanderbilt Printing Services website.
Contact: Sean Carroll, (615) 936-4544
sean.carroll@vanderbilt.edu