Media Inquiries
Latest Stories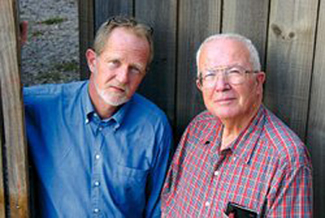 New York Times bestselling authors Dr. Bill Bass and Jon Jefferson, who write together under the name Jefferson Bass, will sign their latest thriller, The Breaking Point, at 7 p.m. Monday, June 15, at Barnes & Noble at Vanderbilt.
Bass is a world-renowned forensic anthropologist who founded the University of Tennessee's Body Farm—the world's first and foremost laboratory devoted to the study of human decomposition. He is the author of more than 200 scientific publications and two nonfiction books about the Body Farm, Death's Acre and Beyond the Body Farm, both written with Jefferson.
The Breaking Point—the ninth Body Farm novel—follows forensic anthropologist Bill Brockton as he's drawn into a high-profile FBI investigation to identify charred remains from a fiery plane crash, just as a prior case comes back to haunt him.
Authenticated by Bass' unrivaled expertise in forensic anthropology and buoyed by Jefferson's narrative deftness and literary flair, The Breaking Point brims with exacting, informed and gripping scientific detail, coupled with more twists and turns than a Tennessee mountain two-lane highway.
Contact: John Lasiter, (615) 343-2665
john.lasiter@vanderbilt.edu