Media Inquiries
Latest Stories
Strong Inside: Perry Wallace and the Collision of Race and Sports in the South was honored at the Robert F. Kennedy Book Awards held May 21 at the Newseum.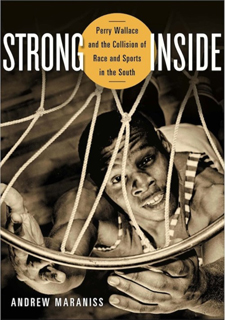 Strong Inside, by Andrew Maraniss, was one of just two books to receive RFK honors. The Crusades of Cesar Chavez by Pulitzer Prize-winning author/journalist Miriam Pawel was selected as the recipient of the 2015 RFK Book Award, while Strong Inside received Special Recognition honors from the judges—Michael Beschloss, Jim Wooten, Randall Kennedy and Michele Norris.
This marked only the second time in the last five years that a book was tabbed for Special Recognition. Last year, Congressman John Lewis' book March: Book One was selected. Strong Inside was the first sports-related book ever to receive any kind of recognition in the RFK Book Awards since the program's inception in 1980.
Strong Inside is the biography of Perry Wallace, who as a Vanderbilt University basketball player in the late 1960s was "the Jackie Robinson of the deep South," the first black scholarship athlete to play a full season in the Southeastern Conference in any sport.
Published by Vanderbilt University Press in December 2014, Strong Inside debuted on the New York Times best-seller lists in both the sports and civil rights categories and remained on both lists for four consecutive months. The book has been excerpted, reviewed or featured in national media including Sports Illustrated, The Sporting News, Southern Living, the New York Times, the Huffington Post, the Washington Post, Morning Joe (MSNBC), Olbermann (ESPN2), Meet the Press (NBC), All Things Considered (NPR) and Only A Game (NPR).
Maraniss spent eight years working on the book at night and on weekends outside of his job at a Nashville public relations firm. He previously had written about Wallace for black history class term papers while a student at Vanderbilt from 1988 to 1992. Prior to joining McNeely Pigott & Fox Public Relations, where he is now a partner, Maraniss was the first-ever media relations manager for the Tampa Bay Devil Rays in 1998, and was the associate director of media relations in the Vanderbilt University athletic department from 1992 to 1997. He attended Vanderbilt on the Fred Russell–Grantland Rice sportswriting scholarship.
After making SEC history at Vanderbilt, Wallace went on to graduate from Columbia University Law School and serve as an attorney for the U.S. Department of Justice. He is now a professor of law at American University.
Contact: Betsy Phillips, (615) 322-6799
betsy.phillips@vanderbilt.edu