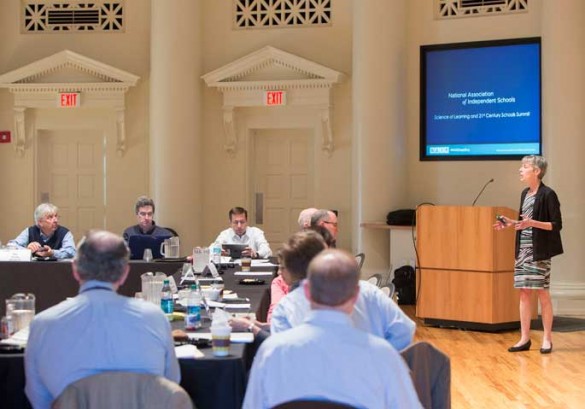 Educators representing independent schools across the country gathered for the National Association of Independent Schools' Science of Learning and 21st Century Schools Summit, held at Vanderbilt May 19-20.
Vanderbilt Peabody College of education and human development's was the gathering place for the intensive summit which gathered more than 50 educators and thought leaders in the independent school community for talks by national experts and group discussions on critical issues and research.
Peabody College has been engaged in professional development for independent school leaders and teachers for more than a decade, and in January 2014, launched a master's program for independent school leadership.
"Hosting this 'deep dive' summit is just one of the ways Peabody's leadership is showing its commitment to the issues faced by independent schools," said Patrick Schuermann, research assistant professor at Peabody. "We are excited about the prospect of collaborating strategically with NAIS in the upcoming decade."
During the two-day symposium, national education experts spoke about key topics, including the implications of neuroscience on learning and teaching; how learning and teaching is changing in the 21st century; transforming schools for deeper learning; defining the teacher of the future; the importance of successful teacher education; cultivating a more professional independent school teaching force; and the application of technology in the classroom.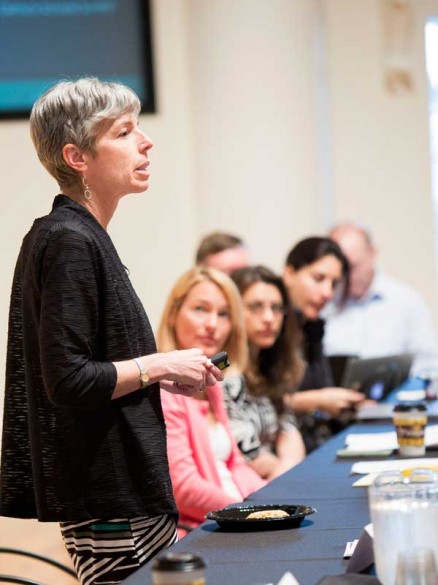 Marcy Singer-Gabella, chief academic officer for Project Grad, and professor in the practice of education at Peabody, led a discussion on preparing teachers for the 21st Century.
"Teacher preparation is complex, but it doesn't have to be complicated," Singer-Gabella said, citing Dave Snowden's Cynefin Framework. "A 'master teacher' is a kid watcher … someone who 'gets' kids, understands content and is a good collaborator."
Many educators only excel in one or two areas, but not all three. Collaboration and mentorship are vital to the growth and development in teachers, she said.
During the Q&A session afterward, several educators expressed that they had not experienced much collaboration in their careers, while others described intern and mentorship programs they were involved in that were yielding positive results.
"Teaching is a team sport," Singer-Gabella said. "The best way to prepare teachers for what you want them to do is to have them learn it with you."
The line-up of speakers included Mary Helen Immordino-Yang (University of Southern California); Martha Haakmat (Brooklyn Friends School); Charles Fadel (Harvard University); Rick Hess (American Enterprise Institute) and others.
Learn more about Peabody's master's program for independent school leadership.