Media Inquiries
Latest Stories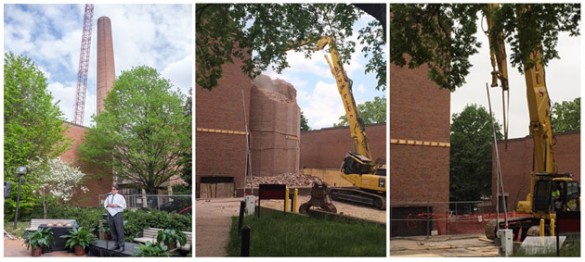 The Vanderbilt power plant has a dramatic new look. Demolition of the brick exhaust stack, which once stretched more than 200 feet tall, is now complete.
The plant's conversion from using both coal and natural gas to exclusively natural gas has been underway since fall 2013 and included the removal of infrastructure that supported the plant's prior use of coal. The conversion included demolishing two of the most visible portions of the plant: the brick exhaust stack and the concrete coal silo.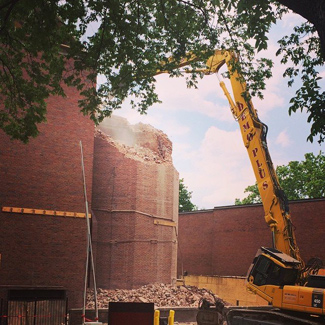 Demolition of the stack began April 10 and was completed the second week of May, taking just over a month. To view a video of the demolition process, click here.
The plant ceased burning coal on Nov. 19, 2014, and a celebration to mark the end of coal use on campus and kick off the demolition of the exhaust stack was held April 9, 2015. Construction will be ongoing until fall 2015 to complete needed infrastructure improvements.
For more information on the conversion of the power plant, power production on campus or sustainability, please visit the SustainVU website, contact sustainvu@vanderbilt.edu or call (615) 322-9022.
Contact: Sustainability and Environmental Management Office, (615) 322-9022
sustainvu@vanderbilt.edu