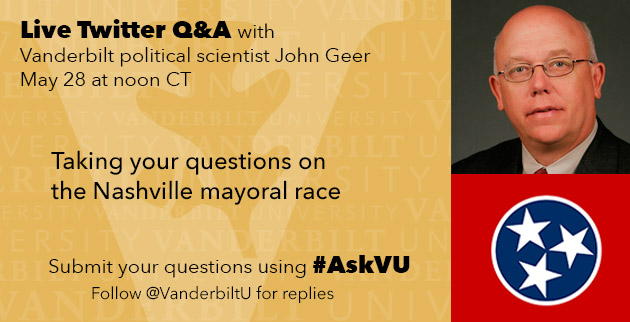 Vanderbilt University will host a live question-and-answer session on Twitter about the Nashville mayoral election from noon to 1 p.m. Central time Thursday, May 28, featuring political pundit and Vanderbilt professor John Geer.
Geer, an expert on American politics, elections and political advertising, has provided extensive commentary in the news media on politics, including nationwide interviews for Fox, CNN, NBC, CBS, MSNBC, ABC and NPR. Geer has also published op-ed pieces with Politico, The Washington Post, Los Angeles Times, USA Today and the Chicago Tribune.
"The mayor's race is great politics," said Geer, Gertrude Conaway Vanderbilt Professor of Political Science and co-director of the Center for the Study of Democratic Institutions at Vanderbilt. "There are lots of qualified candidates competing for one of two slots in the runoff. The race remains fluid and very much up in the air. Probably half of the city has yet to form strong preferences."
A field of seven candidates is running in the Aug. 6 election, with the runoff election between the top two finishers expected to follow in September. The candidates are Megan Barry, Charles Robert Bone, David Fox, Bill Freeman, Howard Gentry, Jeremy Kane and Linda Eskind Rebrovick.
Questions can be tweeted in advance or live during the event using #AskVU, or emailed to www@vanderbilt.edu. The event can be accessed live on May 28 by following @VanderbiltU on Twitter. You do not need a Twitter account to read the Q&A.
The mayoral race Q&A kicks off Vanderbilt's new Twitter series #AskVU, in which Vanderbilt experts on a variety of topics will be available to answer questions from the public via Vanderbilt's Twitter account.