Mayor issues proclamation honoring women's tennis team
May. 20, 2015, 5:05 PM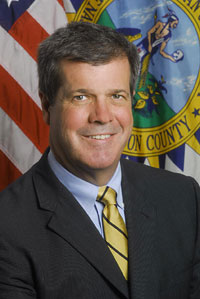 Nashville Mayor Karl Dean issued a city proclamation May 20 in honor of the Vanderbilt women's tennis team's NCAA Division I Championship title. The proclamation reads as follows:
Whereas, Vanderbilt University is known for excellence in both academics and athletics and the Commodores Women's Tennis team exemplifies that reputation; and
Whereas, The fourth-seeded Commodores dethroned defending national champion UCLA with a 4-2 win on May 19th, 2015, to take the top prize in the NCAA Championship; and
Whereas, The city recognizes the hard work of the team and congratulates Frances Altick, Ashleigh Antal, Sydney Campbell, Marie Casares, Courtney Colton, Maggie Leavell, Payton Robinette, Georgina Sellyn, Astra Sharma and Ellie Yates for their outstanding season; and
Whereas, Vanderbilt's longest-tenured coach and two-time SEC Coach of the Year, Head Coach Geoff Macdonald, along with Associate Head Coach Aleke Tsoubanos, Strength Coach Emil Iankov and Volunteer Assistant Coach Lauren Mira, led the team to Vanderbilt's history-making first national championship in women's tennis, with a 25-6 season record, and a 23-straight home match winning streak over the past two seasons; and
Whereas, The team displayed unmatched excellence on the court and in the classroom, with its highest grade point average since 2008 during fall semester (3.516) and ending the year with a 3.453, finishing as champions in their education as well.
Now, therefore, be it resolved that I, Karl F. Dean, Mayor of the Metropolitan Government of Nashville and Davidson County, do hereby recognize May 20, 2015, as Vanderbilt Commodores Women's Tennis Day in Nashville and congratulate the team on their championship season.
I have hereunto set my hand on this the 20th day of May, 2015.
Karl F. Dean,
Mayor