Lilly Endowment funds VU Divinity program on preaching quality
by
Ann Marie Deer Owens
May. 14, 2015, 4:47 PM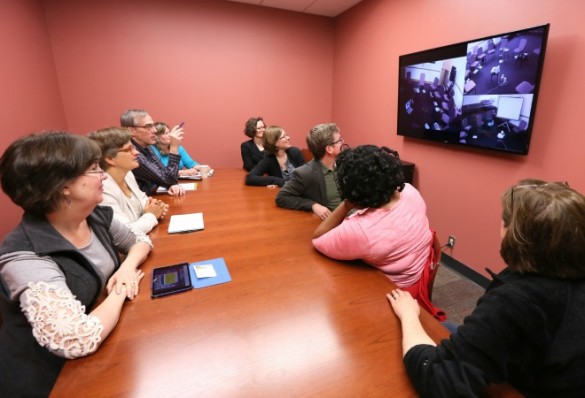 Vanderbilt Divinity School has launched a program to train coaches who will help preachers improve and enrich their sermon preparation and communication skills, thanks to a $500,000 grant from Lilly Endowment Inc.
Launched in April, the David G. Buttrick Certificate Program in Homiletic Peer Coaching was created by Dale P. Andrews, Distinguished Professor of Homiletics, Social Justice, and Practical Theology, and John S. McClure, Charles G. Finney Professor of Preaching and Worship. They piloted the approach several years ago as a "homiletic supervision" program, honing the teaching method and model.
"Certified preaching coaches have an important responsibility to work with preachers who want to improve their skills," said Andrews. "Therefore, this is a rigorous two-year program that involves extensive reading, coursework, training in professional ethics, supervised practice and evaluation."
The first group of coaches-in-training began their two-year training at a five-day seminar April 27 through May 1 at Vanderbilt Divinity School.
"We have designed the program to work 'from the inside out,'" said McClure. "Coaches will be trained in sermon analysis, listening and communication skills, and peer-group covenant building and group dynamics, among other skills."
Benefits of becoming certified in homiletic peer coaching include learning how to work effectively with small groups of preachers, helping them learn to preach with intentionality, imagination, and purpose. "Anyone who has experienced the joys and challenges of preaching, and is committed to helping others become better practitioners of this highly important part of spiritual leadership should consider our program," McClure said.
Andrews noted that the coaches will learn how to use two primary coaching models. "The first model is centered on the formation of the preacher and is focused on narrative materials about their vocation as preachers, developed into brief case studies," he said. "The second model is centered on the sermon and focuses on entire sermons in context."
The program is named in honor of David G. Buttrick, the Drucilla Buffington Professor of Homiletics and Liturgics, Emeritus. Buttrick joined the faculty at Vanderbilt Divinity School and the Graduate Department of Religion in 1982. He has written or edited eighteen books, thirty-five chapters in books, and published more than 175 articles and reviews. His works include Homiletic, Preaching Jesus Christ, A Captive Voice: The Liberation of Preaching, and Preaching the New and the Now. His most recent book is Speaking Conflict: Stories of a Controversial Jesus (2007).
For more information on the Buttrick Certificate Program in Homiletic Peer Coaching, including fees, please see the program blog.