Media Inquiries
Latest Stories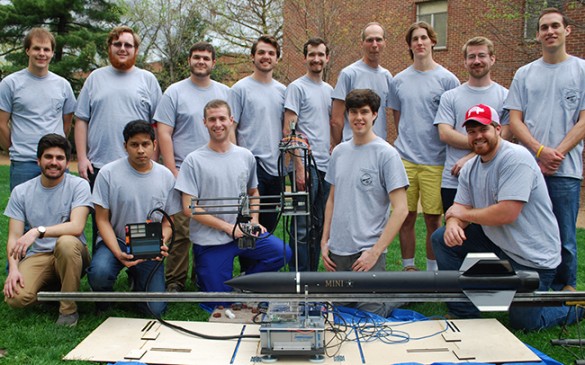 For the third year in a row, the Vanderbilt Aerospace Club has won NASA's eight-month long rocketry competition – the 2014-15 Student Launch Challenge – beating out 30 other university and college teams.
Judges announced the Vandy team's victory on Tuesday, a month following the launch day competition that took place on April 11 at Bragg Farms in Toney, Alabama, near NASA's Marshall Space Flight Center in Huntsville.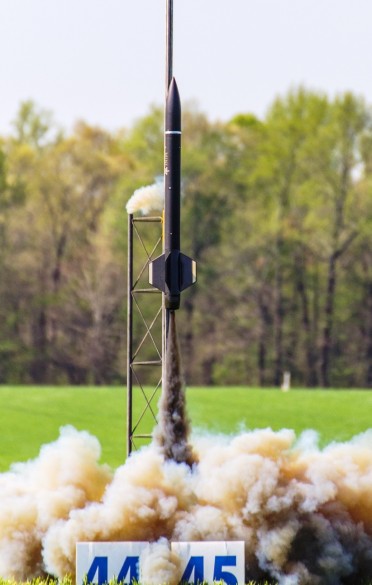 The Vanderbilt team will receive a $5,000 award for their victory. Second, third and fourth place awards went to University of Louisville, University of North Carolina, Charlotte and Cornell University.
The basic goal of the annual competition is to build a rocket that will fly to a target altitude, which was 3,000 feet this year. But there are a number of other elements to the contest as well, including vehicle design, payload design, project review, website and educational engagement program.
This year the payload design category came with a new twist: the requirement to build an autonomous ground support equipment (AGSE) robot that picks up a simulated Mars sample and places it in the rocket. After the rocket is launched, the payload is independently parachuted down from an altitude of 1,000 feet.
"The Vanderbilt rocket Mini-V had a successful launch and the AGSE performed flawlessly," reported Amrutur Anilkumar the professor of the practice of mechanical engineering who is the club's advisor. "The students' received a special award for the AGSE's unique design and its ability to identify the rocket and the Mars sample, separate the sample from its surroundings, pick it up and place it in the flight rocket."
In addition to winning in the payload category, the Vandy students also took the top award in website design for "creatively designing and managing the most efficient and professional website for the promotion of student launch activities.
"It is a tremendous sense of pride to be the first Vanderbilt team to win three national championships. Realizing this unique distinction in an academics competition makes it even more satisfying,'' said outgoing Aerospace Club President Dexter Watkins, who has been a member of all three championship teams.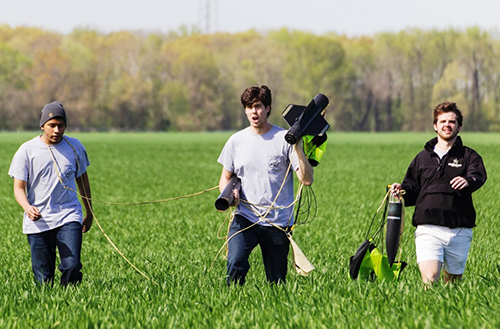 "I'm really proud of the students on the Aerospace Club," said Anilkumar. "Every year they work through very challenging engineering projects with great determination and steadfast commitment. Their experiences are too numerous to be documented, but will help them become trail blazers in their professional careers.
Since it was founded in 2007, about 50 Aerospace Club members have graduated and most of them are pursuing aerospace careers, either in industry or academia, Anilkumar reported.
"We are in a new era of private access to space and the students have an avid enthusiasm to work for these companies," he added. In the last two years alone, five team members have joined SpaceX, the private company which designs, manufactures and launches advanced rockets and spacecraft, after graduating.
"Aerospace engineering projects these days require integration of mechanical engineering, electrical engineering and computer science skills and to me the Aerospace Club has provided us with a unique opportunity to seamlessly integrate our strengths and learn from each other. There is no set level to these projects, you tackle it till the design is perfect, as failure is not an option," said Chris Lyne, a graduating mechanical engineering senior who has chosen to pursue a master's degree in mechanical engineering at Vanderbilt.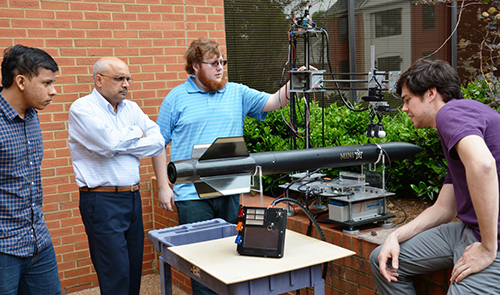 Next year the Aerospace Club will be renamed the Vanderbilt Aerospace Design Laboratory, Anilkumar reported. In addition to supporting the undergraduate rocketry team, it will expand into related areas of aerospace research and design that will provide additional opportunities for graduate students interested in aerospace engineering.
Robin Midgett, electronics technician in the mechanical engineering department, is the team's rocketry mentor and safety officer.
The 2014-15 aerospace team was sponsored by the Department of Mechanical Engineering and the Boeing Corporation.
Vanderbilt Aerospace Club continues its winning ways at national rocket competition