Media Inquiries
Latest Stories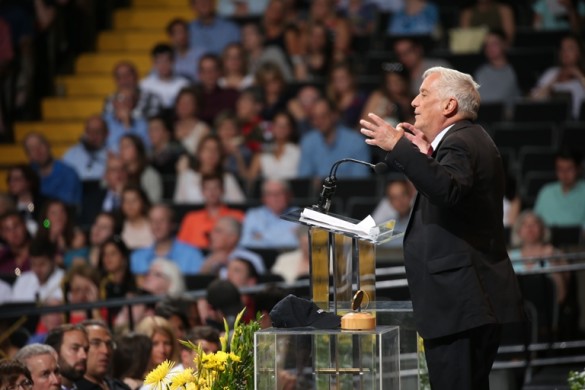 Vanderbilt graduating seniors should follow the lead of historical figures such as Benjamin Franklin and Steve Jobs, author Walter Isaacson urged during his Senior Day address in Memorial Gymnasium.
"'Follow your passion' is sort of a mantra of (the) Baby Boom generation," said Isaacson, president and CEO of the Aspen Institute and formerly chairman and CEO of CNN and editor of TIME magazine, to an attentive crowd of students, their family and friends in Memorial Gymnasium on May 7.
"Let me tell you something – it ain't just about your passion. It's about connecting your passion with something larger than yourselves. That's what you'll discover it's all about. … That's what made all the characters I wrote about so great."
Isaacson's books include biographies of Jobs, Franklin and Albert Einstein. His most recent is The Innovators: How a Group of Inventors, Hackers, Geniuses and Geeks Created the Digital Revolution. At the event, Isaacson was awarded the Nichols-Chancellor's Medal by Vanderbilt Chancellor Nicholas S. Zeppos. The medal, created and endowed by Vanderbilt law school graduate Ed Nichols and his wife, Janice, in honor of Edward Carmack and Lucile Hamby Nichols, is given annually at Senior Day to an individual who defines the 21st century and exemplifies the best qualities of the human spirit.
The Nichols-Chancellor's Medal carries a cash award. Isaacson said that he would donate a portion of that money to Teach for America. He is the chair emeritus of the organization, which recruits teachers to work in low-income communities.
Graduates should be humble, curious, and creatively open to collaboration, Isaacson said. The key to success in the 21st century, the same as it had been in the 20th century, will be combining love and facility for the sciences and the arts.
The writer's prime example of that theory was the subject of his 2011 book, Steve Jobs. The founder of Apple was an electronics enthusiast as well as a lover of poetry and dance as a youngster, Isaacson said.
"He thought he was weird to have both sets of interests until he read something that Edwin Land – who had invented Polaroid – had said: 'Those who can stand at the intersection of the arts and the sciences, those who can stand at that intersection where the humanities meet technology, will be the creative ones, the ones who will produce value in our society.'"
Jobs went on to revolutionize personal technology with his company's computers and other innovative products such as the iPod and iPhone.
Commencement was set for the morning of May 8 on Alumni Lawn, with Memorial Gymnasium the backup in case of bad weather.