MEDIA ADVISORY: New Vanderbilt Poll results to be discussed May 13 at Vanderbilt
by
Jim Patterson
May. 6, 2015, 10:01 AM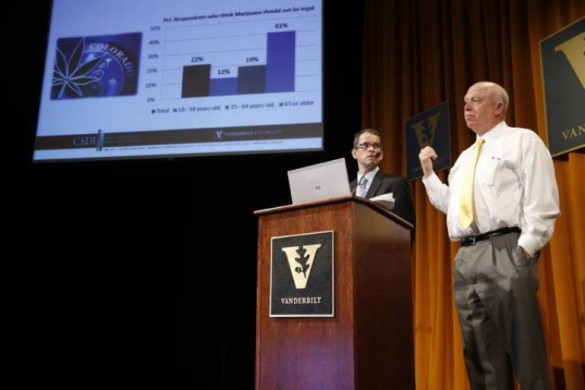 The new Vanderbilt poll will be released and discussed May 13, offering insights on what Tennesseans think are the top issues facing the state in the days following the close of the most recent legislative session. A news conference is scheduled for 11 a.m. in the Board of Trust room in the Vanderbilt Student Life Center.
Around 1,000 randomly selected registered Tennessee voters were asked questions about Insure Tennessee, abortion, same-sex marriage, Iran, marijuana policy, end-of-life issues and more at the end of April and beginning of May. There were also questions about state and national politics and the popularity of various political leaders.
The Vanderbilt Poll is supported by the Center for the Study of Democratic Institutions at Vanderbilt and co-directed by John Geer, Gertrude Conaway Vanderbilt Professor of Political Science, and Josh Clinton, professor of political science.
The Vanderbilt Poll is conducted twice a year – just before the start of each legislative session and at the end of each session to determine how closely the results of the session align with voters' expectations and priorities.
WHAT: John Geer and Josh Clinton, co-directors of the Center for the Study of Democratic Institutions at Vanderbilt, will present data from a poll of Tennessee voters related to issues that arose during the 109th Tennessee General Assembly. A mult-box will be available on site.
WHERE: Board of Trust Room in the Student Life Center on the Vanderbilt campus, 310 25th Ave. S. Limited parking for media will be available in the Student Life Center garage beneath the building and accessed from the driveway in the rear.
WHEN: Wednesday, May 13, 11 a.m. Box lunches will be provided.
Media contact: Jim Patterson, (615) 322-NEWS
jim.patterson@vanderbilt.edu