Media Inquiries
Latest Stories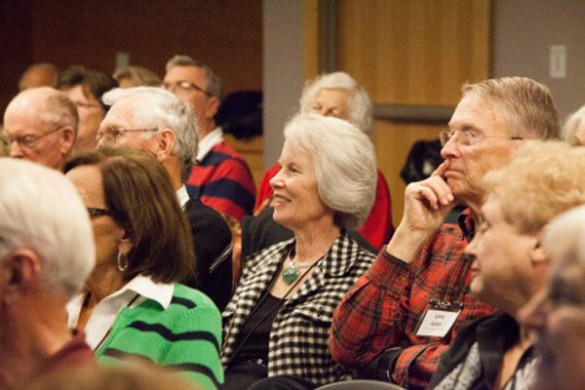 Registration is open for the summer classes offered by the Osher Lifelong Learning Institute at Vanderbilt, with topics that include Nashville's musical heritage, healthy soul food and English country dancing, among others.
The non-credit classes, which are open to all those 50 and older, are scheduled June 1 through July 29 in a variety of locations, including Williamson County.
"The curriculum reflects the high academic standards espoused by Vanderbilt on all levels," said Norma Clippard, program director. "In addition, our student body is a cohesive group that projects a true sense of community, always welcoming new members."
"Exploring the Nashville Soundscape" will be taught by Robert Fry, senior lecturer in music history and literature at the Blair School of Music. The class meets June 1, 8 and 15 from 9:30 to 11:30 a.m. at the Scarritt Bennett Center. Students will enjoy an experiential approach to learning about Nashville's music history, with a field trip planned June 17 to some of Nashville's most famous musical landmarks.
"English Country Dancing," geared toward those who want to dance the moves that writer Jane Austen loved, meets all five Tuesdays in June. Susan Kevra, senior lecturer in French and American studies in the College of Arts and Science, will lead the class, which meets from 3:30 to 4:45 p.m. in Vanderbilt's Alumni Hall. "These relatively simple dances, danced in lines or circles with a partner, involve lovely symmetrical patterns put to elegant and playful fiddle music, with an emphasis on the social nature of dance," Kevra said.
"African American Art History," taught by Lealan N. Swanson, a retired professor of art history at Jackson State University, is scheduled June 3,4 and 5 from 9:30 to 11:30 a.m. at the Scarritt Bennett Center. Students will explore African American art in a historical context and take a guided tour of important collections held by Fisk University.
The Osher Steel Drum Band class is scheduled for six Sundays, starting June 14, from 1 to 2:30 p.m. at the Blair School of Music. Mat Britain, director of the Vanderbilt Steel Band Program, leads this hands-on class, which does not require prior musical experience. Participants will enjoy listening to as well as performing Caribbean music from artists such as Jimmy Buffett, Bob Marley and Harry Belafonte.
"Genealogy: Adding DNA Testing," will meet Tuesdays and Thursdays, June 16 through July 2, from 9:30 to 11:30 a.m. at the Scarritt Bennett Center. Class content is based on instructor Dave Dowell's book NextGen Genealogy: The DNA Connection (2015). "We will explore answers to questions such as what is genetic genealogy, and how do we balance technological possibilities with human values?" said Dowell, who is a genetic genealogist and retired academic librarian.
Alice Randall, writer-in-residence in African American and Diaspora Studies, and her daughter, Caroline Randall Williams, will teach "Cooking with Soul Food Love," their new cookbook, June 22-26. Participants will learn how to prepare tasty African American and Southern dishes with health-conscious recipes. The class will meet from 1:30 to 3:30 p.m. at the Stambaugh House faculty apartment, part of The Martha Rivers Ingram Commons at Vanderbilt.
"Design Through the Ages," taught by John Bridges, will meet for five Wednesdays, starting June 24, from 9:30 to 11 a.m. at the Scarritt Bennett Center. Bridges, an author, historian and product designer, will explore the common thread that links significant designs throughout the ages. "In the final weeks of this class, we will show how previous design influences have affected our lives here in America," Bridges said.
"Enriching Life: A Guide to Extraordinary Living" is based on the work of the late Marshall Rosenberg, a psychologist who founded The Center for Nonviolent Communication. The class, which meets for four Mondays starting June 29, will be led by trainer and facilitator Carlene Robinson, who will use the guide based on Rosenberg's work. "We will explore some of the principles and key distinctions underlying the practices of nonviolent communication that accesses our compassionate nature," Robinson said.
Mitchell Korn, adjunct professor of music and community at the Blair School of Music, will lead "Introduction to Symphony 101." The class will meet for four Tuesdays in July from 9:30 to 11:30 a.m. at the Williamson County Library. "Focusing each class on the life, times, family and music of a different composer and symphony, I plan to engage my students in the 'behind-the-scenes' listening and historical gems that bring the music and composers alive," Korn said.
To register online for any of the classes, visit the Osher Lifelong Learning Institute at Vanderbilt website. For more information, email Norma Clippard or call 615-322-5569.