MyVU asked 13 graduating seniors how they found immersion at Vanderbilt and got as many different answers. We're featuring their stories in the lead up to Commencement on May 8.
Engineering senior Nolan Michael Smith never expected to be sitting in a laboratory waiting for a toddler to sign off on an app he designed. But that's what happened when the computer science major from Carmel, Indiana, agreed to collaborate with Colleen Russo, a research graduate student at Peabody College.
Russo, under the direction of Associate Professor of Psychology Georgene Troseth, studies how preschoolers learn while using touch screens. She needed a unique vocabulary app that could track how her young test subjects interact with screens using taps, swipes and drags.
"They were videotaping the kids and counting the interactions manually, which was very labor-intensive," Smith explained. "They were blown away that I could create an app that would do that for them."
But creating the app was more complicated than he anticipated. It needed to be simple, straightforward and distraction-free so that the researchers could collect meaningful data. Over several months, Smith immersed himself in the world of childhood development, spending countless hours with the researchers in theoretical discussion and laboratory observations.
"I would give them a draft and they would run a trial and find it was too frustrating for the children, or it didn't work the way we hoped," Smith said. "[rquote]I had to go back again and again and think about coding in ways I never had before."[/rquote]
Russo said the toddlers love the final product, which is full of "rewarding sounds and incentives," including a "moo" sound as a cow departs the screen. The app also has been hugely beneficial in collecting data she hopes will one day positively affect the children's media industry.
"Nolan is a remarkable person, and we are lucky to have worked with him early in his career," she said. "It was fun introducing him to our research process and having him come at it from a coding perspective. It was a great partnership, and we would definitely do something like this again."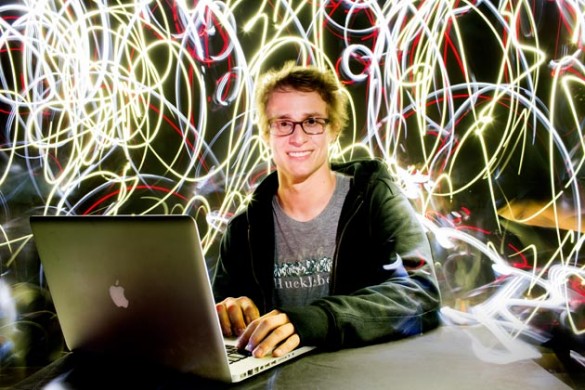 After Commencement, Smith heads to Seattle to work for Microsoft, where he'll analyze large data sets for companies around the country.
The trans-institutional collaboration, he said, exemplifies why his Vanderbilt experience has been a good one. "I like development, and I got to apply it in the context of children's learning. I wasn't expecting that, but it was so much fun."