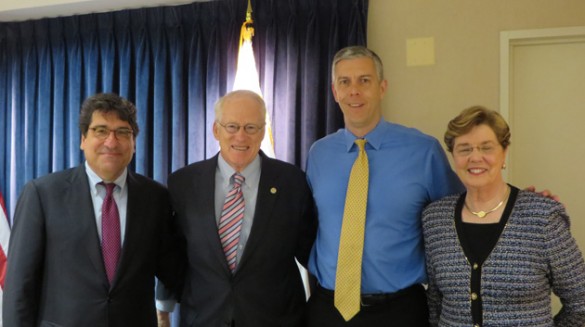 Vanderbilt Chancellor Nicholas S. Zeppos, University System of Maryland Chancellor William E. Kirwan and American Council on Education President Molly Corbett Broad convened in Washington, D.C., May 1 to brief U.S. Secretary of Education Arne Duncan, Under Secretary Ted Mitchell and other senior Department of Education officials on the report and recommendations issued by the federal Task Force on Government Regulation of Higher Education.
Zeppos and Kirwan co-chaired the task force, which was charged by the U.S. Senate Health, Education, Labor and Pensions Committee and its chairman, Sen. Lamar Alexander, with conducting a comprehensive, nonpartisan review of the Department of Education's regulations and reporting requirements of U.S. colleges and universities.
Zeppos and Kirwan testified before the Senate HELP Committee Feb. 24 about the need for more streamlined regulations governing higher education. "Many of the department's regulations are well-intended but unnecessarily voluminous, too often ambiguous, and the cost of compliance has become unreasonable," Zeppos testified. "Even more troublesome, we are very concerned that these regulations stand as a barrier to students' access to college education."
The task force issued its report Feb. 12.
Contact: Christina West, (202) 216-4370
christina.d.west@Vanderbilt.Edu