Photography students explore Nashville's modernist architecture through yearlong project
May. 1, 2015, 12:52 PM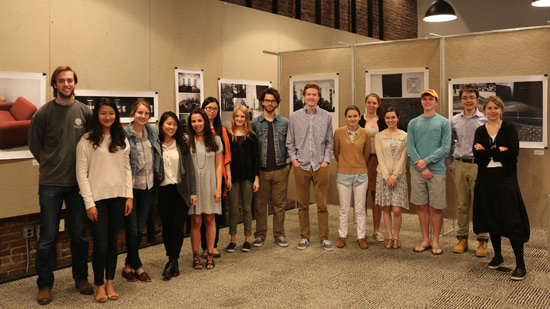 City in Progress, a photography exhibition resulting from a yearlong Vanderbilt student project exploring modernist architecture and its legacy in Nashville, is on display April 21-May 22 at the Nashville Civic Design Center.
An open house and reception for the exhibition is planned for Saturday, May 2, from 5 to 7:30 p.m. at the center, located at 138 Second Ave. N., Suite 106.
Three photography classes in the Department of Art visually analyzed the exteriors and interiors of the Ben West Public Library and the Cordell Hull Building in Nashville. Facing an uncertain future of demolition or re-use, these buildings became studies in public policy and architectural heritage.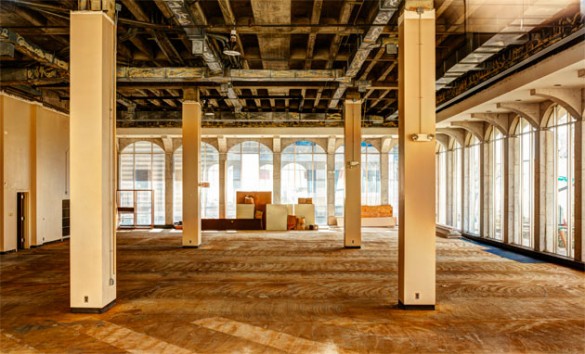 Issues of modernity and progress are reflected in the final photographs, which include 16 color and black-and-white archival pigment prints depicting change as well as the past, present and future of the city landscape. Themes addressed by students include decay, emptiness, abandonment, materials, surfaces, communication and labor, renovation and repurposing, desolation and hope, the individual and the corporate, human activity and nostalgia, imaginary narratives and beauty.
An interdisciplinary panel convened at the Nashville Civic Design Center in April 2014 to introduce the project. The event featured presentations by Associate Professor of Human and Organizational Development James Fraser, Gary Gaston of the Nashville Civic Design Center, Fabiola López-Durán of Rice University, Tara Mitchell Mielnik of the Metropolitan Nashville Historical Commission and Ana Maria Tavares of the University of São Paulo. The group offered perspectives on modernist legacies, city planning, innovation in the treatment and design of public space, and architectural visions for the city of Nashville.
The City in Progress project also featured the October 2014 lecture "Photography, Ideology and Modernist Architecture" by Karen Irvine, curator and associate director of the Museum of Contemporary Photography in Chicago.
The project has been supported by a Curb Center for Art, Enterprise and Public Policy Innovation Grant, the Vanderbilt Department of Art, the Vanderbilt Center for Latin American Studies and the Nashville Civic Design Center.
Contact: Vesna Pavlović
vesna.pavlovic@vanderbilt.edu