MyVU asked 13 graduating seniors how they found immersion at Vanderbilt and got as many different answers. We're featuring their stories in the lead up to Commencement on May 8.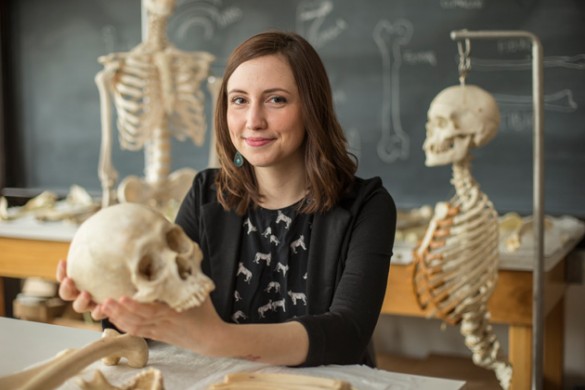 Coming from a working-class Oklahoma farming family, Holly Glass arrived at Vanderbilt feeling "weird and different." She kept to herself her identity as a member of the Choctaw Nation of Oklahoma.
"I knew it was part of me, and if you look at my course work and essays and stuff, it's always there," Glass said. "But my dad is white and I look white, so I felt like it was easier to just pass as white and not really express that part of my heritage."
Checking in four years later, things are entirely different. Glass works in a lab helping to repatriate Native American bones to the Chickasaw, a sister tribe of the Choctaw. She helped start NATIVe—Native Americans in Tennessee Interacting at Vanderbilt—which held its first ever powwow on campus last year.
And while her interests don't stop at Native American issues, she now views her career as intertwined with her heritage.
The breakthrough came when Glass registered for a class in biological anthropology.
"[rquote]I took that course, got really excited and ended up helping to rejuvenate the anthropology club on campus," she said.[/rquote] "Before that, I had explored social activism in Nashville, getting involved with labor organizations, homeless issues and things like that."
Tiffiny Tung, associate professor of anthropology, taught the biological anthropology course and encouraged Glass to take other classes with Amy Non, assistant professor of anthropology. Non subsequently employed Glass in her lab, involved her in various research projects, and introduced her to colleague Nanibaa' A. Garrison, assistant professor of pediatrics in the Center for Biomedical Ethics and Society at Vanderbilt University Medical Center. Garrison, who is Navajo (Diné), encouraged Glass to attend the Summer Internship for Native Americans in Genomics in Austin, Texas, last year.
"After that, I started doing research about genetic testing and ethical implications for Native American communities and people in general," Glass said.
After graduation, Glass is headed to Peru to study more excavated skeletons. Then she is hoping to land an internship at the Smithsonian Institution, which has an office dedicated to the repatriation of Native American remains and artifacts back to tribes.
Glass plans to head to graduate school within two years.
"The research I'm doing now is highly related to my identity, and I think it's something I can use to contribute to my tribe in the future," she said. "I feel much happier now, and the research I'm doing makes me feel really fulfilled."