MyVU asked 13 graduating seniors how they found immersion at Vanderbilt and got as many different answers. We're featuring their stories in the lead up to Commencement on May 8.
Ben Shane is not easily labeled, which is what makes him an ideal Curb Scholar. The motorcycle aficionado has described himself as "enjoying ancient Chinese poetry, modern American fiction and Taylor Swift."
When one of his advisers talks about Shane, her list includes writer, Asian studies major, speaks Chinese, lived in China, maker, doer and lifelong learner. "He really exemplifies the Curb Scholars program," said Elizabeth Meadows, Curb's assistant director.
The Curb Scholars Program in Creative Enterprise and Public Leadership at Vanderbilt is the first of its kind in the nation. The scholars use traditional and experiential practices to learn how innovation impacts the public good. Shane's senior legacy project at Curb involves a decrepit 1979 Honda Goldwing motorcycle, a community of artisans, enthusiasts and workers, and the telling of a story about leading a life intimately involved with the physical world.
Shane's love for motorcycles started at 15, when he rebuilt his first bike. When he came to Vanderbilt, his focus shifted to his new life on campus, but he found that it didn't ring true. Once he brought his bike to campus, things started to fall into place.
"I had to get comfortable with the idea that I was at a liberal arts university studying Chinese but that I also like to work on motorcycles. [rquote]Finding that balance is fulfilling to me, and that's how I want to live my life," he said.[/rquote]
His college career shows that balance. The summer after sophomore year, Shane took a solo trip from his hometown of Springfield, Illinois, to California and back. He was gone for two and a half months, relying on paper maps, the 35-year-old motorcycle and himself.
During his junior year, he spent a semester abroad at Yunnan University, living with a Chinese roommate and immersing himself in China's language and culture with a full load of classes taught in Chinese. That summer, he traveled through the Nujiang Valley on a writing internship, learning firsthand about the potential impact of energy-hungry China's plans to build dams along the river, displacing 50,000 villagers in the process.
These experiences lead Shane to believe that today's society is disconnected with the world around it. "We don't fix things ourselves anymore," he explained. "But there's a different and more meaningful kind of freedom you gain when you do interact. You have to figure out what is really wrong and how to fix it."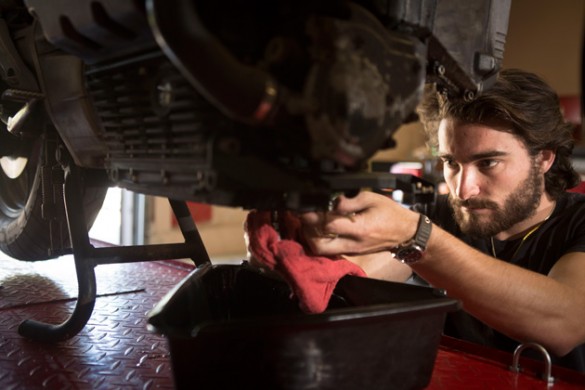 Shane fulfills his need for connection at the Nashville Motorcycle Collective, a warehouse in East Nashville where riders help one another work on old bikes. But there's more being shared—and learned—than just the correct tool to use. "These guys have different knowledge than I do," he said. "Fixing things is more than manual labor. It requires a lot of knowledge and, at a certain point, creativity. There's no equation to plug in."
With Commencement on the horizon, Shane feels like he's found himself even if the destination isn't yet clear. "All I really know is that I'm doing something important right now, experiencing the work and growing," he said. "I have a lot of traveling to do, lots of new places to go."